Note: I contacted Ledger's as I wanted to try their tonic and they kindly obliged with some samples, as always this won't affect my review!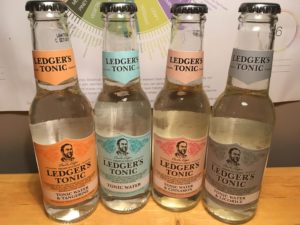 Ledger's tonic is so named after Charles Ledger who discovered quinine in Peru back in 1862. Their range features four flavours, all of which are low in sugar and sweetened with stevia – a natural sugar substitute which means they are one of the most calorie friendly tonics on the market. Today we're drinking their premium Indian tonic, tonic with liquorice, tonic with tangerine and finally their tonic with cinnamon.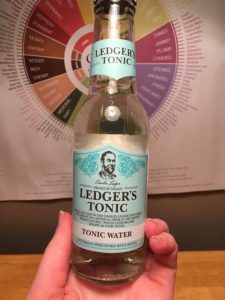 Indian Tonic Water
The regular tonic is zesty but created with versatility in mind and is balanced to suit a range of gins. From the bottle, it does smell like tonic (surprise surprise) and when mixed with some gin (Juniper Green) it smells like a bad gin and tonic. Luckily it tastes a bit nicer, but it is still rather sweet. Not sugary as such, but definitely sweet. The boy thinks it smells flowery and tastes cloudy. Catriona thinks it smells a bit citrusy, but tastes a bit chemically.  Overall, we aren't the biggest fan of this, but it's not the worst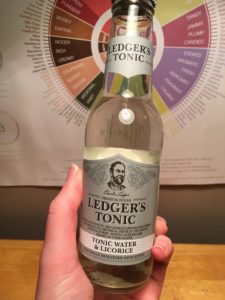 Tonic Water and Liquorice
This tonic stimulates your nose, allowing you to enjoy the smell and taste of your drink. Opening this bottle it is very fizzy, and smells like those black liquorice chews that you can buy. It doesn't taste as bad as it smells, but it is definitely liquorice. It lingers. The boy refuses to drink this. Catriona however likes liquorice and thinks this taste like "drinking a blackjack", however, after a few sips she says "I like liquorice but I don't want any more of that". So. Not a winner here.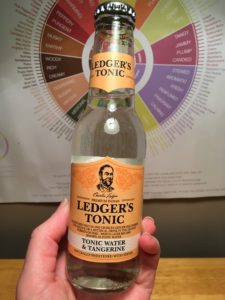 Tonic Water and Tangerine
Funnily enough, this tonic water is mixed with fresh tangerine, adding a burst of citrus to your drink. Luckily for me, it doesn't smell too tangerine, just of general citrus. To drink, it definitely ups the citrus, but I couldn't guess that it is orange if I didn't know. Catriona doesn't pick up the tangerine either and is just picking up the sweetness, she thinks the Indian tonic tastes more citrusy than this. The boy thinks it smells like day old orange peel and prefers this to the previous three.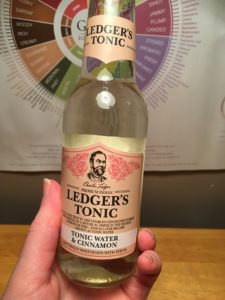 Tonic Water and Cinnamon
This tonic, with it's spice and warmth, mixes not only with gin, but also dark spirits and spiced rum. This smells quite nice, a little bit Christmassy. I am surprised. This is the one I was most reticent about but actually this is fairly palatable. Catriona isn't able to pick up on the cinnamon, but she does also admit that her taste buds might not be great.
Overall, it's an interesting mix. Of the flavoured tonics, I'm not sure that I could drink more than one in a go. They are unusual choices, and for some people I think these would be great. I imagine the tangerine and cinnamon would go well with a spiced gin, but the liquorice one I'm really not sure about. I have no idea what that would go with.
You can buy Ledger's Tonic from Gin Kiosk for £1.60 per 20cl bottle (at time of writing) and you can find them on Facebook, Twitter and Instagram.
Have you tried Ledger's tonic? Let me know what you think on Twitter and Instagram.