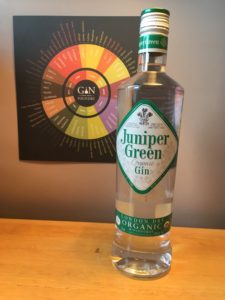 Hi, I'm Jenny and a few weeks ago I went to a Vegan Festival. As a former vegetarian that has since seen the error of her ways and now eats steak at every opportunity, it was strange (I actually wrote about it for Brighton Girl over here). However, I did as I do best and found myself chatting to a gin maker. Juniper Green Organic Gin can trace its roots back to 1700, using over 300 years of experience to make their current blend. Juniper Green is 100% gluten free, distilled using organic and sustainable crops – the juniper is FairWild meaning that the berries from Bulgaria are collected in a sustainable way and those harvesting get paid a fair and proper wage. The angelica and summer savoury are grown in the UK by the Organic Herb Trading Company especially for this gin. The grain is made and distilled on a single estate which has been organic for 35 years. Basically, it's good for the environment to drink it, and therefore good for you… that works right? So after a long chat with the sellers, I got myself a bottle of the 43% gin (after having a good taste of their various rums as well!).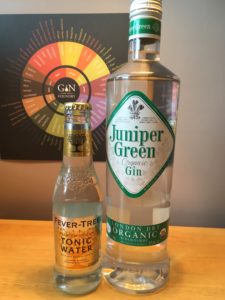 Cracking open my 750ml bottle, it smells like a clean, juniper-forward gin. There is a slight herbal note to it which is enhanced when added to a glass. Watered down it is very smooth with a slightly musky, rooty smell from the angelica root. It's warm on the tongue without burning or being bitter. The piney notes come through, but it isn't overpowering. Mixing it up with Fever Tree Indian Tonic Water it is so soft that it doesn't taste like it is 43%. This is reminding me of Lilliput Gin – herbal but not overpowering. It is fresh and light, not at all cloying and just leaving a hint of flavour at the back of the mouth which makes you want just another sip. Having now learnt about correctly matching my gins to my tonics (thank you Gin Foundry), I feel I should have had this with a Mediterranean tonic to highlight the savoury notes, but even still this is great.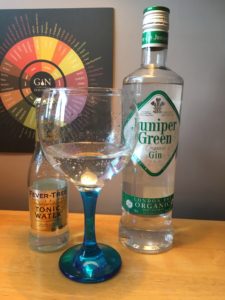 You can buy the 37.5% version of their gin on the Whisky Exchange for £18.85 (at the time of writing). Recently, a lot of the gins that I've been trying are around the £30-£40 mark. It's refreshing to find one that is affordable as an everyday gin – admittedly it is made in much larger batches which helps but still. If you want a good, affordable, every day gin that isn't your usual Gordon's, then check this out. Plus it's organic, so it's good for you right? They're pretty old school so don't have social media so just check out their website for more info.
I however have social media, so get in touch with me on Twitter and Instagram.