Note: I emailed Wild Island to see if they would send me a sample and they kindly did. I'll let you know if I don't like it.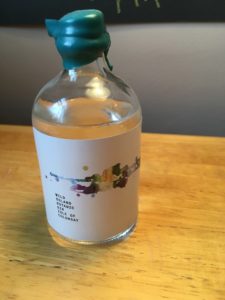 Wild Island Botanic Gin is produced by Colonsay Beverages in the southern Hebrides on the Isle of Colonsay – home to just 120 inhabitants. Distilled with 100% British wheat, it is then infused with 16 botanicals – six of which are sourced locally including lemon balm, wild water mint, meadowsweet, sea buckthorn, heather flowers and the yummy sounding bog myrtle* (Moaning Myrtle spring to mind for anyone else?). The gin was launched in December and has already sold four batches of their gin – but I'm feeling like this is pretty special to have got some outside of Scotland. Wild Island Gin are another Scottish gin to use a beautifully designed label – it features an expressionist watercolour interpretation of the local Kiloran Bay (fun fact: you can buy Harris Tweed lampshades to match the bottles).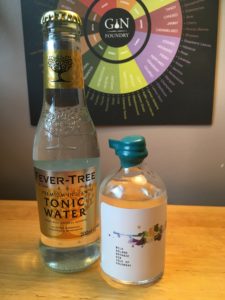 After peeling off my wax seal that was perhaps a bit too snug (yes I wrestled with it), it smells quite gentle with the juniper coming to the fore in the glass. It's very zingy on the tongue with lots of flavours, leaving an aniseed-esque flavour on the tongue. It's punchy and bold, and certainly not your refrained British G&T of times gone by. Talking of tonic, mixed up with some Fever Tree this tones down and becomes slightly sweeter and creamier (thanks meadowsweet and sea buckthorn). The floral notes become more obvious and the drink has a better balance to it. I found this a little intense when it was straight, but now it is a G&T the sweetness balances the more vibrant tones. Perhaps it's because I'm not a liquorice fan, but I can REALLY taste the liquorice here which is spoiling it slightly – although if that's your thing then this might just be the drink for you.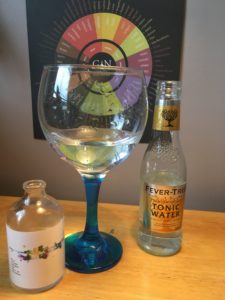 A 70cl bottle of the 43.7% spirit is available on Drink Monger for £38.95 (at the time of writing). For me personally, the liquorice is all I can really focus on so I don't think I will be investing in a bottle, but I'd still recommend giving it a try. You can find Colonsay Brewery on Facebook and Twitter, and Wild Island Gin on Instagram.
Have you tried Wild Island Gin? Let me know on Twitter and Instagram.
*"Bog Myrtle: Used to add sweet flavour to ancient beer recipes and reputedly consumed by the Vikings before battle, bog myrtle is a richly aromatic herb found largely in damp peat bogs." Nope, the description doesn't make it sound that great either.