Note: I contacted British Polo gin and they kindly send me some samples, and a copy of the British Polo magazine, to try. As always, this won't stop me being honest about what I taste!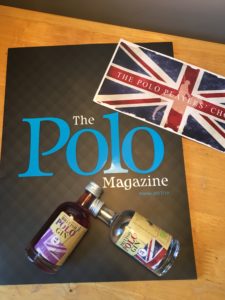 British Polo gin is apparently the polo players' choice of gin…and so therefore I'm going to give it a go. To be fair, I grew up in the countryside and we had a horse growing up, so I'm basically qualified to make this judgement. Founded by polo player Richard Hine, British Polo gin is 100% organic using 100% organic botanicals and base spirit (distilled from sugar beet which also makes it gluten free) which is then quadruple distilled for smoothness before being diluted with natural spring water from the land around their distillery. They make their gin in batches of just 150 bottles which contain 14 botanicals ranging from elderflower to vanilla and cinnamon. They have also launched a sloe gin distilled with British berries with additions of winter spices cinnamon, nutmeg and cloves which already has me dreaming of cosy jumpers and roaring fires.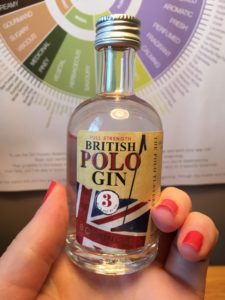 First up is the no.3 botanical gin. The nose is quite herbal – like the basil that's been sitting in my fridge for the last week or so. There's a lighter note to it which I'm guessing comes from the elderflower and a definite creaminess. In the glass, the juniper makes itself known along with an almost nutty depth. As I have a 50ml sample, I'm not mixing it with water and straight it is smooth to drink with a mighty punch of pepper. They use ginger as a botanical and the fresh heat on the tip of the tongue is a welcome surprise after the mellow nose. Mixing it with 50ml of tonic, the heat dies down and the vanilla returns. An earthiness grounds the flavour but the zing from the ginger lifts the whole palate and makes it rather exciting to drink. There's a hint of bitterness in there, but it isn't overwhelming and easy to get past. So, whilst I can't speak on behalf of all of the British polo players, in my opinion, it's not too shabby. For the price, perhaps I won't be rushing out to buy a bottle but I know that the price is pushed up as it is organic and hand made in wood fuelled stills.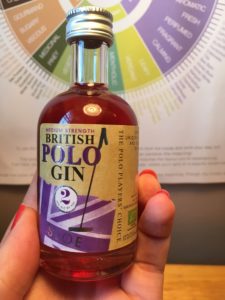 I usually associate sloe gin with the winter, so drinking it on a hot, sunny bank holiday feels a bit strange. But luckily, I'm dedicated to the cause. In the glass, it smells quite jammy, but it's not as thick or tart as other sloe gins that I've tried. I'm mixing mine today with Franklin & Sons Sicilian Lemon Tonic which, in equal quantities, has turned this into a great summery drink. The freshness of the lemon lifts the thickness and, when adding a touch more lemon, brightens the whole palate. The lemon adds a touch of dryness to balance the sugar from the sloe gin – although again, it isn't as sugary as previous sloe gins that I've tried have been. I could sit and drink this all afternoon if I hadn't already finished the bottle… However, it's not massively different to other sloe gins so I think the £40 price tag puts me off picking this one over other sloe gins.
You can buy 70cl bottles of both gins from British Polo Gin's website for £39.99 each (at time of writing). You can find them on Facebook, Twitter and Instagram.
Have you tried British Polo gin? Let me know your thoughts on Twitter and Instagram.