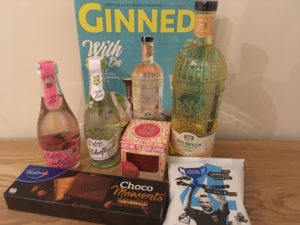 Happy Craft Gin Club delivery! And a big cheers to the first in my new home (spoiler alert: buying a house is stressful and expensive). This month's delivery is yet another exclusive gin, courtesy of the City of London Distillery (which is about 50 feet from my day job just off of Fleet Street by the terrifying junction that is Ludgate Circus.). Alongside the gin, this month we were treated to two Belvoir pressés, a packet of Bahlsen crunchy hazelnut choco moment biscuits, some salt and vinegar London Crisps and a tub of popaballs. The City of London Distillery is so called because, surprise surprise, it is in the heart of the city; they opened their doors in December 2012 and have since gone from strength to strength, winning awards aplenty and now have five gins to their name (with Six Bells becoming their sixth). The focus of this gin is citrus. The usual gin botanicals of juniper, coriander, angelica root and liquorice root are joined by lemon rind, fresh grapefruit and sweet orange to create a big zesty mouthfeel.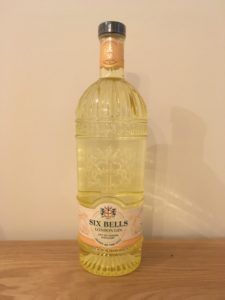 Opening my bottle (which FYI took forever as the pull off tab broke which led to me attacked it with my keys and ripping my tights) and the citrus is definitely noticeable, it is fairly sweet which I presume is because they use a lot of fresh fruit rather than dried. In the glass, the citrus fades away and even the juniper doesn't come out that much. Adding a splash of water and the citrus only really comes through at the back of the throat. Thankfully, this isn't as orange heavy as I feared it might be, but is actually pretty well balanced. Even at 41.3% this is really smooth and easy to drink, even on its own. Which is dangerous.
Today I am pairing my gin with some Cushiedoos tonic, because I ran out of Fever Tree and haven't been the most organised during the move. In a 50/50 ratio, the citrus is definitely noticeable, especially with a sharpness at the back of the mouth. It's not as sweet as it smelled, as the dryness of the juniper is obvious. Adding a touch more tonic though, and this is a winner. It's really simple as flavours go, but this shows that you don't need 40 botanicals to make something good. Sometimes, simple is better. And when in doubt, add grapefruit.
You can buy the other COLD gins from their website here (ranging from £28 – £32 at time of writing)…and I'm not really sure when this one will be available to the public, but I've tried some of their gins before and think that is pretty good value. You can find them on Facebook, Twitter and Instagram.
Have you tried Six Bells gin? Let me know your thoughts on Twitter and Instagram.