Note: I met the Gin Eva team at Junipalooza and they kindly sent me some samples to have a taste of. As always, I'll let you know what I really think.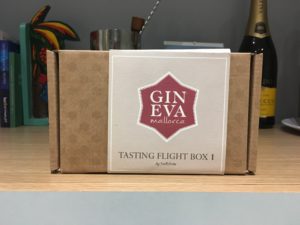 Gin Eva comes from Mallorca (or Majorca depending on your choice of spelling) and has a unique background. The gin was founded by Eva and Stefan, one being a Catalan oenologist (someone that studies the science of wine and wine making) and the other a German wine grower. Stefan worked for a number of wineries before setting out to make gin, a spirit which gives him far more freedom than the wine industry does. Gin Eva is a labour of love – Stefan himself admits his first attempt was rubbish, but this drove him to practice to ensure they were getting the most out of each botanical. They now macerate their botanicals for a number of weeks before distillation occurs, a slow process but they say the gin is worth the effort. Alongside Mallorcan juniper, they use lemon and bitter orange which, they say, balances well with the juniper for a creamy and zesty taste on the palate with a light and elegant finish.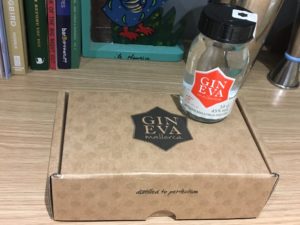 Opening my tasting flask and the juniper leaps out at you and there's definitely a whack of lemon in there. In the glass, the ethanol wafts up – but it is 45% so that's allowed. There's a thickness to it that you get with cream and vanilla. The orange is very noticeable when mixed with a touch of water – as someone that doesn't really like orange that was quite unpleasant. Neat – this is not really for me. Mixed with some Fentimans tonic water in a 50/50 ratio and it still tastes of orange. Perhaps a sweeter tonic than Fentimans was needed, but nevertheless I push on and add a touch more tonic to lengthen the drink.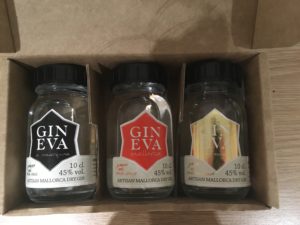 It is less bitter and the orange taste has faded to a more general citrus flavour, although the orange notes are definitely still there at the back of the throat. The thickness and creaminess from earlier has gone, but it is a pretty good gin and tonic. Strangely I think adding a wedge of lime to this would be great – this is probably because I love lime and it would help hide the orange. The juniper is not all that prominent and the citrus is the leading flavour. I can imagine this working well sat outside in the sun, gazing over the sea and with some antipasti to nibble on.
A 70cl bottle of their gin is available from Gin Kiosk for £38.40 (at the time of writing) – personally there's too much orange in this for this to be the one for me. You can find them on Facebook, Twitter and Instagram.
Have you tried Gin Eva? Let me know what you think on Twitter and Instagram.