Note: Symphonia kindly sent me a sample to try and ramble about, but as always I'll let you know if I'm not a fan.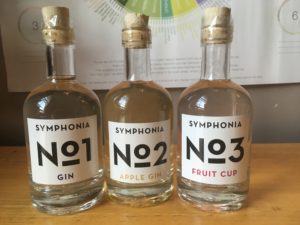 Did you read about Symphonia No.1 and No. 2 gin? If not, shame on you and you can read about them here and here. The third (and currently final) gin in their range is a fruit cup. The fruit/summer cup trend seems to be growing from smaller distillers, perhaps due to the popularity of Pimms and the pink gin craze. So what makes the Symphonia fruit cup different? This 25% fruit spirit is made using raspberries from the distillery garden and berries foraged from the hedgerows in the Irish countryside. The lower ABV makes it perfect for sipping, or mixing with tonic, soda, prosecco or lemonade (essentially, whatever you want). One thing you instantly notice about this fruit cup is the colour – fruit cups usually have a pink/orange tinge to them but this is surprisingly clear.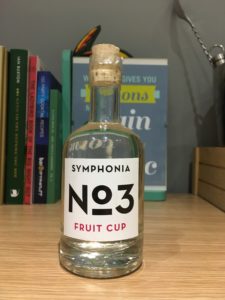 Popping out the little cork and it is noticeably juniper forward. Thank god. So many of the fruit cups around are full of sugar but this has just a hint of berries. Once it is in the glass, the berries open up slightly but it remains dry. Diluted with a touch of water and the sweetness comes through, it tastes SO much sweeter than it smells. Very deceiving. This is like drinking sugar water with a raspberry in it. The juniper mixed with the sweetness makes me think that tonic will work well with it in rather than my usual mixer ginger beer.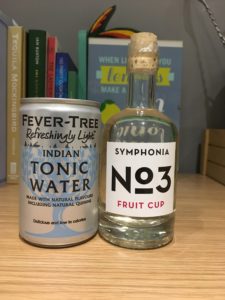 Mixed 50/50 with some Fever Tree light and it's very pleasant. Sweeter than a normal g&t certainly, but the berries take a backseat to the juniper making the flavours subtle and an after thought. It's well balanced, and I wouldn't guess that it was a fruit cup if I was blind tasting this. This is the raspberry gin that companies should be making instead of the luminous pink liquid that is churned out. That being said, I don't think I could drink many of these. On a hot summer day, maybe, but on my cold kitchen floor as my dining table hasn't yet been delivered isn't prime location.
You can buy a 70cl bottle of the apple gin from Gin Kiosk for £29.80 (at time of writing). I'm not sure this is worth it really. If I'm going to buy a fruit/summer cup then I am going to get one that tastes more…summery? You can find Symphonia on Facebook and Twitter.
Have you tried Symphonia's fruit cup? Let me know your thoughts on Twitter and Instagram.