Note: I contacted the Cushiedoos team and they kindly sent me some samples to try but as always, I'll let you know what I think.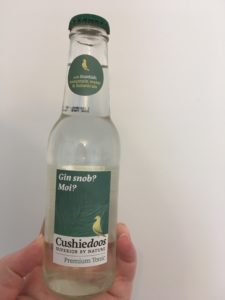 Cushiedoos is a new brand of tonic water from Edinburgh, but there's something about it that makes it very different to everything else. This tonic water has no quinine in it. Which made me think, does it actually count as tonic water? They say it does so until I'm told otherwise, we'll go with yes. Cushiedoos start with Scottish mountain water from the Cairngorns National Park which is then blended with Scottish heather and silver birch, plus some gentian and wormwood for bitterness (replacing the quinine) and British sugar beet to balance this with a touch of sweetness. They have an eye out for the environment, ensuring that all of their ingredients are close to home – plus as it is all natural and contains no added sugar, there is around 24% less sugar than other premium tonic waters. Cushiedoos is a Scottish word for a wood pigeon, who apparently partner up for life, like gin and tonic… Also fun fact for you: the samples arrived just as I was leaving to go on holiday to Edinburgh, and I spent the beginning of my gin tasting talking about the brand which they then bought out for us to try. Small world. Anyway, on with the tasting!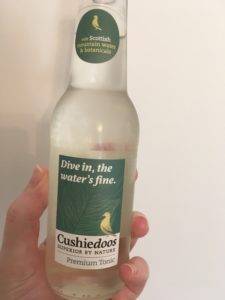 Opening the bottle and the carbonation is clear to see – although considering it was in my bag as I trekked from Hove to West Worthing, I'm surprised it's not fizzier. It smells quite sweet, almost with a hint of raspberries and summer fruits behind it. The boy thinks it smells like pavlova (no elaboration. Just pavlova.) Taking a sip and it is delicious – lightly carbonated but with a citrus twist, like some pink grapefruit has been squeezed in. It is really refreshing and lacks the bitterness that a tonic would normally have. Even the boy has picked up that it is different to tonic, but thinks the fizziness overpowers any flavours.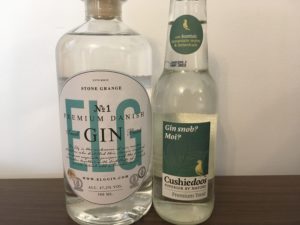 Today we're trying this with Elg No. 1 gin (as that is the bottle of gin I keep at the boy's house) and as his house is less boozy than mine, I'm free pouring these so let's see how this turns out. Working from a roughly 50/50 mix, the gin overpowers the tonic completely; I find this too much but the boy prefers it now the carbonation has decreased. Adding a splash more tonic and the floral notes from the heather are allowed to shine through and it works well with the gin. The juniper is still able to come through along with other characteristics of the gin, but the tonic brings its own flavours – none of it bitterness. I'm a big fan of this and, at 5pm, the extra tonic makes it more palatable although the boy thinks otherwise (because he's a booze head).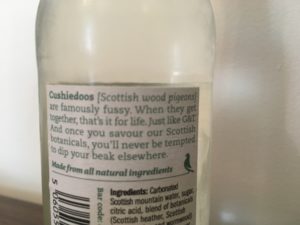 It's a bit tricky to get your hands on a bottle down south at the moment, but they are stocked in lots of bars in Edinburgh and various shops. The second this becomes available either online or down south (or wherever you live) I would recommend getting your hands on a bottle or five. You can contact them on Facebook, Twitter and Instagram.
Have you tried Cushiedoos tonic? Let me know your thoughts on Twitter and Instagram.