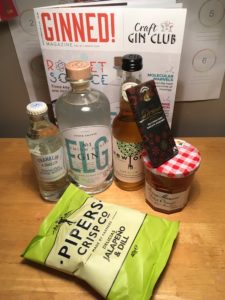 Happy March! Along with the snow, March brings us a delivery from Craft Gin Club yay! This month's delivery includes a bottle of Elg No.1 Gin all the way from Denmark, along with a bottle of Franklin & Sons light tonic, a bottle of Newton's Appl Fizzics, a jar of Bonne Maman marmalade, a bar of Divine dark chocolate and hazelnut, and a bag of Pipers jalapeno and dill crisps. Yay to being snowed in for the weekend! Elg gin comes from a place of science, founder Henrik used to be a biochemist. The unusual thing about this gin is that it only uses three botanicals. Juniper, coriander seed and danish carrot. Yes, carrot. Apparently the distilled carrot enhances the juniper, and that was Henrik's aim. He looked back at historic recipes and wanted his gin to truly taste of the piney juniper. Despite the lack of botanicals, this gin doesn't lack flavour or complexity – apparently it starts bold with tangerine, black pepper and lemongrass before mellowing to a creamier, earthier note. And at 47%, it should have quite the punch! They also produce No.2 Old Tom gin, No. 3 Navy Strength gin and No.4 colour changing gin.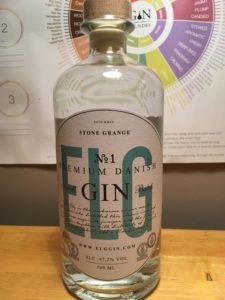 After a satisfying pop of the wooden cork, the smell from the bottle is that of carrot, however I think this is because I know it had carrot in it and my brain is telling me that. The boy thinks it smells like a quality cleaning product, and a garden. So. There we go. In the glass, this is very clean, but also very satisfying. It doesn't smell of just 'nothing'. It smells thick and earthy. The perfume fills the glass, it's not hard to get the aromas up into your sinuses. Diluted down with water, it's very refreshing, near unflavoured like a vodka. Slightly forgettable.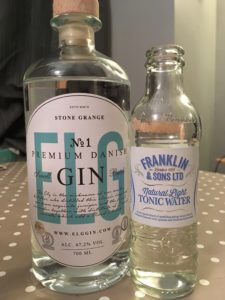 Adding some of the Franklin & Sons naturally light tonic that was supplied with the gin (first up, 1:1 ratio) and it has gone sightly cloudy and it suddenly has a LOT of black pepper and ginger up front. Once the intensity fades away, you're left with a long slow finish with almost a touch of aniseed at the back. Considering the plain-ness of it originally, this as entirely unexpected. Now I know what I'm expecting, I quite enjoy it. The boy still thinks it is fairly forgettable, but then again he doesn't like gin so what does he know. Adding a little bit more tonic and the initial harshness has mellowed – even the boy agrees that is better. I think part of this is from using the naturally light tonic – a tonic with more sugar would help to counter some of the boldness of flavour for those that don't like that in a gin.
You can find Elg No.1 Gin for £29.99 from Onlyhere4.com (at time of writing).It's currently on offer down from £34.99 so snap this up! You can find them on Facebook and Instagram.
Have you tried Elg No.1 Gin? Let me know what you think on Twitter and Instagram.