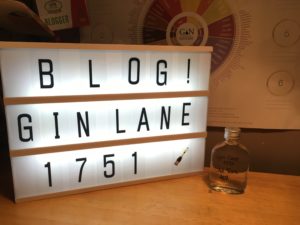 This blog is a shout out to one of my favourite gin people – Cherry Constable. Not only is she lovely and super knowledgeable about everything, she also sends me gin in the post, yay! Today we're talking about Gin Lane 1751, as the name suggests they take inspiration from the Victorian style of gin which favours juniper berries, liquorice and citrus. Their lineup contains four gins – a London dry, the 'Victoria' pink, the Old Tom and a 47% Royal Strength. Today we're drinking the Pink and Old Tom gins. Both 40% ABV, the pink gin follows in the Navy's footsteps by blending gin with herbal and spiced bitters – a trick that supposedly cured sea sickeness – and the Old Tom which ramps up the star anise and adds a touch of sugar with a softer, sweeter profile.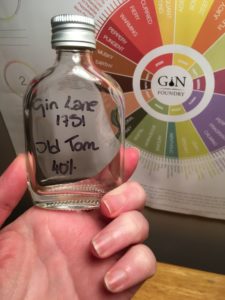 First up to the mark is the Old Tom gin. From the bottle it smells soft and lemony with herbal notes coming out when it's decanted into a glass. A sip of it neat is like pouring sherbet onto your tongue – tangy and sour up front which leaves a crisp finish. Mixed with a dash of Fentimans tonic and the sugar helps to balance the bitterness from the tonic. There's a cleanness to it – as if there's a touch of cucumber lurking in there. No one flavour comes to the fore, but hints of flowers, fruit and citrus. Because Sunday night is the best time for drinking, I've also mixed up a little Tom Collins (one of my favourite cocktails – gin, sugar and lemon mixed with ice and soda water). Now it REALLY shines. It is delicious. The zest from the lemon brightens it up and the sugar balances the dryness. Overall. YES.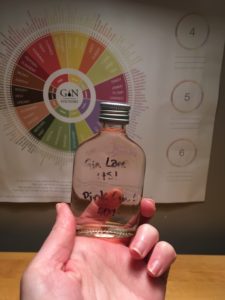 After the joy of the Old Tom gin, let's see if the Pink gin stands up to the challenge. It certainly smells like juniper, and in the glass the alcohol is more prominent than in the Old Tom. A sip of it neat and it isn't as harsh as it smells, although I don't think this is one to sip neat – although I imagine this is due to the addition of bitters. I'm not picking up the spice or herbs particularly, but it does taste fairly medicinal – like a light cough syrup with a touch of eucalyptus. Mixed with a touch of Fentimans it is instantly more palatable (even at a 1:1 ratio), allowing a small amount of syrupy sweetness to come out. It has an almost jammy quality to it, quite sticky at the back of the throat. Diluting it further to an almost 1:2 ratio and this takes the thickness from it but still retains it's flavour. Personally I am enjoying it more at this ratio, it's a bit easier to drink and slightly less cloying. I prefer the Tom Collins (but then again I usually do) but this is also a strong contender. Just enough different from the norm to be exciting, but similar enough that you won't be worried you're wasting your money on something random.
You can buy a bottle of the Pink gin from Master of Malt for £22.45 and the Old Tom for £22.33 (at the time of writing). For this price, I fully support the idea of treating yourself to both. February sucks. Cheer yourself up with gin. You can find them on Facebook, Twitter and Instagram.
Have you tried Gin Lane 1751? Let me know your thoughts on Twitter and Instagram. Also make sure you say hi to Cherry and check out her YouTube channel!