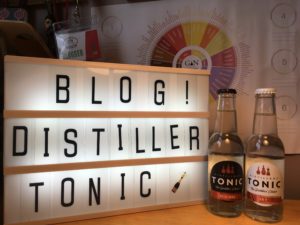 Today I continue my quest to explore the world of tonic water with Distillers Tonic. I tried their tonic in the tonic taste here (which you can read here). Distillers Tonic was owned by Bramley & Gage (of 6 O'Clock gin) but was sold to a group who want to focus on bringing out the best of every gin. They expanded the range and now have two tonics: Original, the clean, fresh tasting tonic which is low in sugar and balances the natural quinine with lemon and lime; and Dry which has half the calories of the original with only a trace of sugar.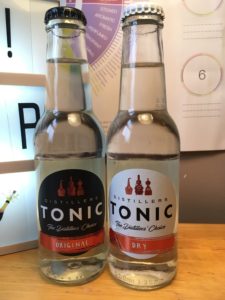 I'm mixing my tonic with Wicked Wolf gin (which you can read more about here). Starting with the original tonic, on its own it's slightly bitter with some citric acidity to it – I imagine this is from the added lemon and lime. It's got a good level of fizz to it and has hit the balance of not too sweet or too dry. Mixed with the gin (starting with a ratio of 50ml gin and 50ml tonic), the earthiness of the gin really comes through, the cardamom in particular is obvious. Adding a splash more tonic to make it more 1:2 and the botanicals calm down slightly and are more palateable (for 4:30pm on a Sunday anyway). The tonic helps with a touch of sweetness and compliments the peppered notes.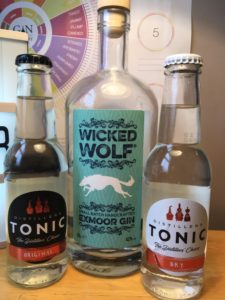 The dry tonic is noticeably less sweet (drier, you might say) and tastes more like a fizzy water than a tonic – although the bitterness from the quinine is recognisable. Mixed with the gin it's interesting that it tastes so different to the original. With the original tonic (at a 1:1 ratio), the botanicals were pungent and really hit you in the face; with the dry version, the gin becomes woodier and almost herbal. Diluting it further and the gin has lost some of it's character. It's certainly drinkable, but the flavours are dialled right down. It's like a whole other drink. Of the two, I prefer the original tonic as it allows the flavours to shine through rather than dampening and hiding them away.
Both types of tonic can be found on the Gink Kiosk website for £1.10 a bottle (dry and original) at the time of writing. You can find them on Facebook, Twitter and Instagram.
Have you tried Distllers Tonic? Let me know what you think on Twitter and Instagram.