Note: I emailed Wicked Wolf gin and they kindly sent me a sample for the blog. As usual, you'll know if it's not quite the one for me.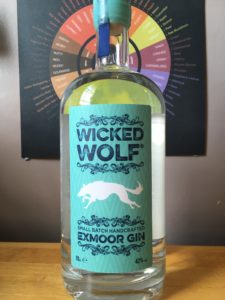 Wicked Wolf gin hails from Exmoor; using 11 botanicals the gin is distilled on the banks of the River Lyn by husband and wife team Pat Patel and Julie Heap. Made in a copper still, the gin is blended, filtered, bottled and labelled by hand in 100 litre batches. The gin is bottled at 42% and features traditional botanicals juniper, coriander seeds and cardamom pods with the more exotic kaffir lime leaves, lemongrass and hibiscus. Currently, unless you live in the Devon/Somerset area it's a bit tricky to find in a pub or shop (although you can find it in Twenty One Wines in the Laines, Brightoners), but it is available online.
Peeling open the wax seal (which is WAY easier than usual), I find my cork stopper is broken leaving half the cork in the bottle and unable to be moved. Luckily, I am inventive and persistent and thanks to pliers and a bottle opener, I wiggled it out (and have superglued it back together so hopefully my future endeavours will be sightly easier). The smell coming from the bottle is fresh and zesty – full of lemon peel and orange. Mixed with a splash of water, the juniper becomes more prominent and there's a hint of pepper on the front of the tongue. Other than that, it is well balanced – it's a shame the citrus disappears, but let's see how it holds up with some tonic.
The tonic accentuates the slightly bitter notes at the back of the throat and it's dry on the tongue. The citrus is not coming through at all. The pepper from the grains of paradise and a slight fieryness from the cubeb give it something on the back of the tongue, but there's nothing to lift the flavour. Adding in some lemon wedges helps, but almost overpowers it (in my haste to rush back to watch the end of the Nadal/Millman game I did add quite a large chunk I admit). This is a very drying gin, it almost feels like it leaves a coating in your mouth of something. It's not unpleasant – indeed it's the sensation I enjoy from a gin, just slightly unusual. Overall, I enjoy this. I can't work out if the lemon has helped, I enjoy it equally the same with or without. Their website suggest serving it with lime and thyme – I should have read this earlier. I have lime, but no thyme. A cocktail for another time perhaps.
You can buy a 70cl bottle of Wicked Wolf from Master of Malt for £33.95 (at time of writing). I think this is pretty fair, I'd say this should be around the £30 mark rather than the £40 as it is a small batch gin (which always puts the price up) and is well flavoured. You can find them on Twitter, Instagram and Facebook.
Have you tried Wicked Wolf gin? Let me know your thoughts on Twitter and Instagram.