Note: I met One Gin at Imbibe Live and they were kind enough to give me a sample to try for my blog.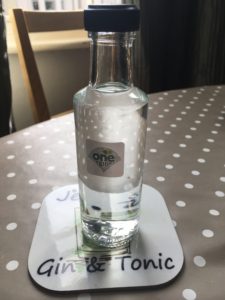 One Gin is produced by multi-award winning master distiller Sarah Thompson (a local gal from Blackdown spirits in Sussex). As a brand, they've been selling water and soft drinks since 2005 – if you haven't heard of One Drinks before, they put some of their profits into helping the 663 million people around the world that don't have access to clean drinking water. Over 2 million people die every year from a waterborne diseases and thousands more – usually women – are trapped in a cycle of needing to walk miles to the nearest clean water supply. One "Sage" Gin uses 9 botanicals which are distilled in a London Dry style, then the gin is further distilled with their signature fresh sage, foraged from the distillery's grounds. One Gin have the aim of raising £20 million for water projects by 2020, so if you like your gin to have an ethical mission, then this is the one for you.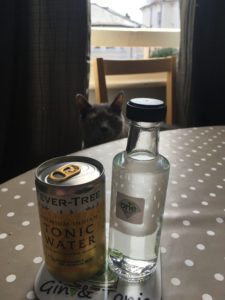 Opening up my little bottle, it smells of juniper and pine – like a walk in the woods. Mixed with a splash of water, the pine smell relaxes to allow the citrus to come through. With the water it's very gentle and easy to drink, a hint of pepper on the front of the tongue which mellows out as you drink it. The warmth from the nutmeg lingers for a while, but it's not over powering. Currently, I'm not getting any of the sage coming through, but let's see if tonic can perk it up.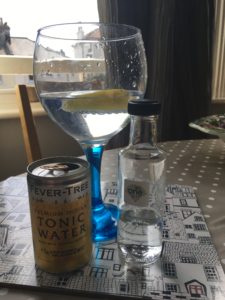 Mixed with a tin of Fever Tree (because they are so cute and mini), a muskiness from the orris root comes out, but the warmth from the cassia and nutmeg. The piney juniper is still prevalent and gives the gin a slight lift at the back of the throat. The marketing leaflet I picked up says it should have multiple layers of citrus, I'm not really tasting any of this. Because I am disorganised and don't have apple or sage to hand to garnish this with, I stick to the classic slice of lemon in the hope that it will bring out the citrus notes. It definitely does that (again, because I was trying not to miss too much of Nadal/Khachanov I might have thrown a rather large slice in). At Imbibe, and indeed in their marketing literature, they recommend service with Peter Spanton Beverage No.9 Cardamom Tonic – this worked really well because the cardamom in the tonic helps to accentuate the warmth of the gin. Plus also that tonic is generally the nicest tonic ever. Here with Fever Tree and (what is frankly) a chunk of lemon, the bitter notes come through more than they should. I think this is more based on my terrible lemon slicing skills than the gin.
A 70cl bottle of 43% One gin can be purchased from The Gin Parlour for £37.95 (at time of writing). Personally I feel that this is worth around the £30 mark, but by hiking the price up they can ensure more money goes to charitable causes. You can find One Gin on Twitter, Facebook and Instagram.
Have you tried One Gin? Let me know your thoughts on Twitter and Instagram.