Note: I met Clover gin at Imbibe Live and they were kind enough to give me a sample for the blog.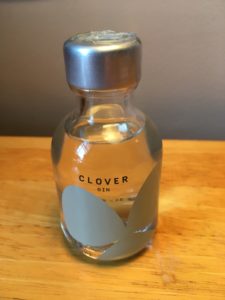 Clover gin hail from Belgium and have a lovely bottle. That's kind of why I got chatting to them at Imbibe. A soft round bottle with a simple design – it's a winner. The product of an eight month journey for three sisters, the gin features coriander, juniper and cardamom as a base, topped with pear and lavender for a perfumed finish. The secret ingredient? Clover (get it? from the name). Like the three sisters, the three leaved clover adds something unique to this gin. They suggest the perfect serve comes with fresh coriander leaves and a slice of ginger.
Opening my little bottle (which is just as lovely and cute as their full size bottle) the smell is fresh and piney, with a touch of fruit. I'm not usually one for pear, but the sweetness from this smells really appetising on a warm Brighton evening. The sweetness is enhanced in the glass and a little sip of it straight (no water or anything) has a little kick to it, but overall isn't unpleasant. There's a sharpness on the tongue which leads to a floralness overtaking your mouth.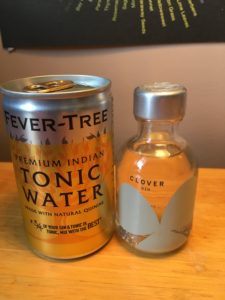 Mixed with a tin of Fevertree (because I love all things miniature), it tastes like sweets. The smell coming from the glass is like a pear drop and when drinking it, that follows through. It's not too sweet luckily and the perfume from the lavender hits you in the face as you raise your glass. To be honest, I have no idea what clover tastes like, or should taste like, or what it brings. I can't tell you if this has made the gin better or not. But I can say it's made a beautiful brand and it's an alright gin. I'm not sure I could drink a few of these in an evening – although I think a slice of ginger would add some fieriness to it which would be quite exciting (I obviously can't try this as I have no ginger at home because I am a shoddy blogger than never really preps, just drinks).
A 50cl bottle of their 40% gin is currently €36 on their website (which is about £31.71 as of today's exchange rate according to Google). Personally, I don't think I would pay above £30 for this, so I'll keep an eye on the exchange rate (and you never know what will happen to the markets with Brexit). You can find Clover gin on Facebook, Twitter and Instagram.