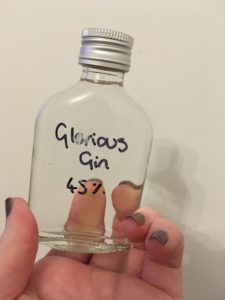 You may have read before that I think Cherry Constable is a great friend. And I am right. Another postal delivery bought a sample of Glorious gin – no, I'm not just fawning over it already, that's the name. Hailing from Breuckelen Distilling in Brooklyn, they make Glorious Gin – distilled from a wheat spirit distilled with grapefruit, ginger and fresh rosemary – and an oak aged version alongside a series of whiskeys. The list of botanicals intrigues me – juniper, lemon and grapefruit peel are all pretty usual, but adding ginger should give it a bit of fire, and the rosemary should balance it with a more herbal nose. One of their suggested cocktails is a twist on a Tom Collins which is garnished with thyme leaves.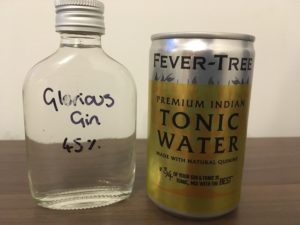 A note before we taste: you may have noticed the photos look different, and that I'm going to drink from a champagne flute. I'm at the boy's place and it is not set up for decent gin blogging. But for you, readers, I will power on. From my sample bottle, it is heavily perfumed and smells delicious, even the boy agrees!  It has a lot of depth to the smell, the underlying hint of alcohol with savoury notes layered on top. In the glass it becomes creamier with hints of vanilla although the boy doesn't pick this up and thinks it smells quite fruity. Watered down a touch, it looks slightly oily in the glass, although the boy is looking at me like I'm mad so maybe not. A sip of it neat and the ABV is still obvious but the juniper is not coming through – I've not tried many American gins but from experience the juniper doesn't tend to be as obvious. I find it slightly plain but with a herbal note lurking there. "Would it be weird to say that with the water it feels more like a texture than a taste?" No. Until he says it has the texture of seeds. Now I'm lost. Personally I'm finding it a bit plain – although I do think I drowned it slightly.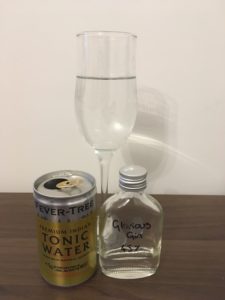 Moving on to the gin and tonic, today matching my little bottle with a mini Fever Tree. I should also say we have no form of measuring apparatus today so it's all free poured. So frankly, who knows what will happen. It smells more like a gin and tonic, and is rather nice. It's not too bitter from the tonic, and the herbal nose from the rosemary isn't overpowering and actually is really palatable. I've struggled with herbal gins before but we might have found one I like. I am disappointed by the lack of fire coming through from the ginger though. The boy thinks it still tastes of citrus fruit but the texture he felt before has faded. It has quite a quick finish, it doesn't linger around on the tongue, instead being rather clean.
A 70cl bottle of the 45% gin can be found on Master of Malt for £41.44 (at time of writing, although it is also currently sold out). I do like it. But I don't know if I like it £40 worth. Perhaps it is cheaper in the US and would be more appealing over there than having to pay extra to import it. You can find Breuckelen on Facebook, Twitter and Instagram.
Have you tried Glorious gin before? Let me know your thoughts on Twitter and Instagram.