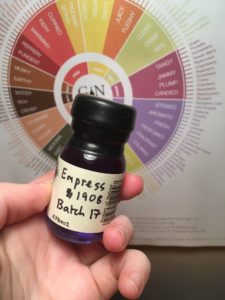 The other day I told you about my good gin friend Cherry Constable, today's gin is courtesy of the awesome Rev. Mary Hawes. Empress 1908 original indigo gin hails from Canada and is a vibrant blue thanks to an infusion of butterfly pea bottom – making the colour 100% authentic and natural. The addition of citrus or tonic turns the gin to a soft pink. Now, I've tried some colour changing gins before and been entirely unimpressed with the flavour which leaves the colour change just as a gimmick to me. However, I'm always open to having my opinion changed. The gin features eight botanicals and is traditional in flavour with notes of juniper and grapefruit at the front.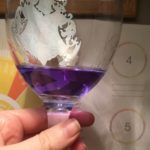 From my recycled Ginvent bottle, the smell is citrus led with a heavy note of juniper behind it. In the glass it is a vibrant violet and the juniper hits you on the tongue, with a tingle of warmth at the back of the tongue. It doesn't have a huge depth of flavour at this point and the finish fades quickly, but you can detect a hint of menthol in there. Mixed with some Fever Tree and the colour turns to a purpley-pink (not super clear in the video at the bottom but the colour change is more obvious in person) and the flavour changes with it. The juniper fades and brings forth a sweetness with just a touch of vanilla. This might be a touch too sweet for my liking, the tartness of the grapefruit is there at the back but not enough to balance the sweetness.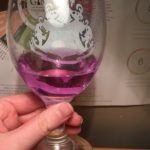 You can buy yourself a bottle of the 42.5% gin from Click n Drink for £36.99 (at time of writing). You can find them on Facebook, Twitter and Instagram.
Have you tried Empress 1908? Let me know your thoughts on Twitter and Instagram.