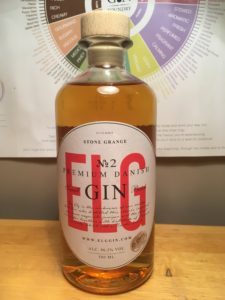 So you might have seen my post about the March Craft Gin Club delivery which contained a bottle of Elg No.1 gin – which was very nice FYI. The team at Stone Grange distillery got in touch and offered to let me try the rest of the range. And, because I like gin, I said yes. So today we are trying their No.2 gin which is an Old Tom style gin. It is slightly lower in ABV than their No. 1 gin at 46.3% – which is still going to have quite a kick to it and they suggest drinking it neat (eep!) or with some ginger beer. Their Old Tom has quite a distinctive colour to it – they take their original three botanicals (juniper, coriander seed and carrot for those that missed the last blog) and add an alcohol extract of juniper which gives it the colour and the sweetness. The extract is made by soaking dried juniper berries in pure wheat alcohol for four weeks. FOUR WEEKS. Considering a lot of gin only really takes a few days to make, this is taking the craft to the next level.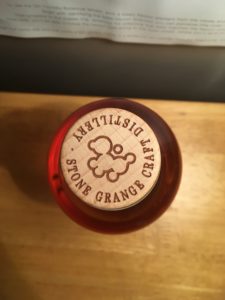 Removing the chunky cork and it smells like a great mix between vegetables and citrus fruits. I still can't decide if I can smell carrots because I *know* it's carrots, or if it actually smells like carrot. There's also a great piney, juniper hit at the back. In the glass the alcohol smell becomes more prevalent, and not as sweet as I would expect an Old Tom to be. Adding a touch of water and it tastes nothing like I expected. There's a cinnamon-esque warmth to it, deep and earthy. There's a touch of zest on the middle of the tongue that almost fizzes like sherbet. The taste is similar to that of a spiced rum rather than an Old Tom gin. At the end there's an almost fennel like mouth feel as a menthol wave comes in and clears your mouth. It's certainly complex.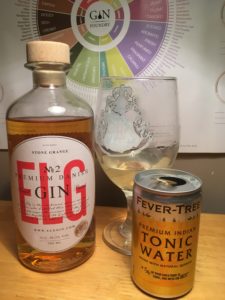 Mixed to a gin and tonic and the sweetness is finally there. It keeps the deep, earthiness – almost as though it has been cask aged. The juniper is still recognisable, and the sweetness comes in a more caramelised form rather than a raw sugar taste. If I was blindfolded and had to guess what I was drinking, I'd almost guess it was rum and ginger beer or similar. It is ever so slightly cloying, but to get rid of that just make sure you keep sipping it. Or make a Tom Collins as I have just done and sit and be very happy with yourself. It has quite a thick texture, making for a really rich and filling drink with just the right level of fizz. HEAVEN.
Currently, Elg gin isn't available to buy online, so you can't get your mitts on any just yet. Which sucks for you. But you can follow them on Facebook and Instagram.
Have you tried Elg No.2? Let me know what you think on Twitter and Instagram.