Note: The Artisan Drinks team sent me some samples to try, but I will always let you know what I really think.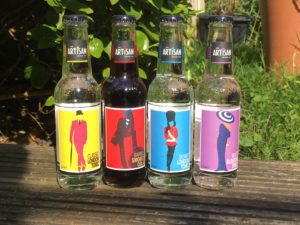 Who are The Artisan Drinks Co.?
The Artisan Drinks Co. started as all good partnerships start – when a group of people met in a bar. Steve, an entrepreneur who previously created Feel Good Drinks, and Alan, a Yorkshire based artists, met Mikey, an award winning bartender, and the Artisan Drinks Co. was formed. They created their drinks in the bar as accompaniments for their favourite spirits. They use 100% natural ingredients and produce in both the UK and Australia in some damn fine bottles. So what is their range?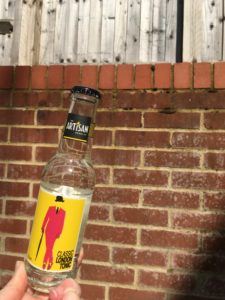 Classic London Tonic
A balance of Valencia oranges and Asian lemons with quinine from raw cinchona bark extract plus some cane sugar to ensure it isn't too bitter. This is aimed to work with drier gins in a classic gin and tonic. In the bottle it smells bitter like a tonic should but with a little hint of lemon. On its own, it is a little sweet but the citrus permeates in and makes it like sherbet. As much as I love a gin and tonic, I don't usually enjoy drinking tonic on its own but this is very drinkable.
Trying it with a classic Hayman's gin starting 50/50 and the botanicals from the gin really shine through and bring a lot of flavour. Adding a splash more tonic and the gin is still staying strong, the botanicals aren't drowned out at all. With yet another measure of tonic, the botanicals finally calm down but this still tastes delicious. Some tonics are too fizzy but the carbonation in this is just right. A bottle of classic tonic is available from Gin Kiosk for £1.30 (at time of writing).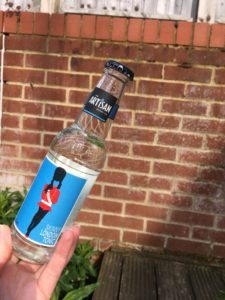 Skinny London Tonic
They say their skinny version has a "champagne-style effervescence", which has lower fruit sugars to lower the calorie content, as well as adding limes to the orange and lemon combination. This smells drier and more bitter than the classic tonic and the carbonation seems much stronger. Not entirely sure if this is similar to champagne, when I think of champagne I think the bubbles are subtle, this feels more like drinking a 7Up. This definitely doesn't taste as sweet as the classic tonic, and I think the lime stands out.
Mixing it with some Hayman's gin and I think the gin is too strong (not sure I've ever said that). The tonic is definitely allowing the botanicals to shine through, but I'm not sure that's a good thing. Adding more tonic and this balances out and becomes much lighter and softer. I think if you like your G&T strong, then the classic tonic is for you but if you like a 1:2 or 1:3 ratio better then the skinny tonic works just as well. A bottle of light tonic is available from Gin Kiosk for £1.30 (at time of writing).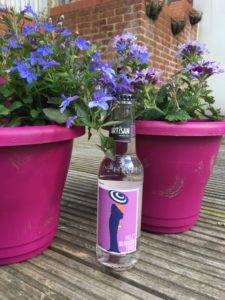 Violet Blossom Tonic
Usually if a range has a floral tonic, they tend to elderflower; whilst this tonic does contain elderflower it is paired with violet and appleblossom. The ingredients sound like they'll be too sweet, but they add a touch of lemon to balance the acidity. In the bottle it certainly smells of parma violet sweets, something that only gets sweeter in the glass. In the tongue you get that sharp tang of sherbet, but it actually isn't too sweet. The lemon tones down the floral notes, but it is really light and refreshing. This feels like the perfect soft drink to sip in the sunshine that is now emerging (it is June after all).
I decided to pair this with Lakes gin as Artisan Tonics recommend a fairly straightforward gin to allow the violet take the reins. This pairs pretty well, although perhaps the gin has a tad too much spice as you lose the lightness of the tonic at the back of the throat. I also had a failed attempt of pairing this with Dam Raider gin, so moved onto Pothecary gin. It now reminds me of a garden with the rosemary and violets, but that's not necessarily a bad thing. Indeed adding a splash more tonic to this makes the flavour blossom, it fills your nose and is rather heady. Again, chuck a few ice cubes in and a touch of my now frozen rosemary, I think we have a garden party cocktail. A bottle of violet tonic is available from Gin Kiosk for £1.30 (at time of writing).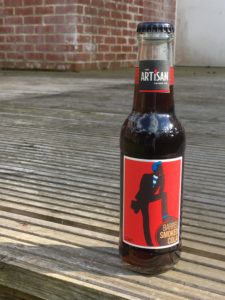 Barrel Smoked Cola
Cola is not my drink after too much of it mixed with too much cheap vodka at uni, but this contains cinnamon, lime and oakwood smoke flavours which they say works with bourbon, whisky and rum. It smells richer than a normal cola, and it certainly tastes nicer than I remember. I'm not really sure I'm picking up any of the cinnamon or lime or smoke as such, but its not as sickly sweet as a normal cola.
For the sake of the blog I'm going to try this with Opihr gin as it is a spiced gin so I think it might work well. Served 1:1, it's not so hot, so adding more cola in and it works better. I'm not sold, but I don't know if that's the cola or the gin or a combination of the two. My next experiment is with some 1792 bourbon, and considering I don't like bourbon or cola, this isn't too bad. Adding more cola makes it much more drinkable (at least for me) and the cola enhances the flavours of the bourbon without drowning it out. I think if cola is your thing, this is a better idea than a big brand. A bottle of cola is available from Drinks Finder for £1.16 (at time of writing). Personally, I wouldn't mix this one with spirits as I'm quite enjoying it on its own,
You can find Artisan Drinks Co. on Facebook, Twitter and Instagram.
Have you tried any of the Artisan Drinks Co. range? Let me know your favourite on Twitter and Instagram.