Note: The team at Taplin & Mageean sent me a bottle to try, as always I will let you know what I think.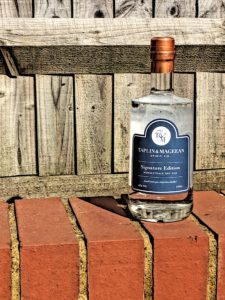 What is Taplin & Mageean gin?
Taplin & Mageean gin has an unusual name, which for once doesn't have a hidden meaning. It is simply the names of the founders – Chris Taplin and Barry Mageean. Chris met Barry whilst on a visit to the Yorkshire Distillery where Barry was head distiller. They got chatting, hosted a gin tasting and – as all good gin tastings end – ended with a conversation about making their own gin. They opened their distillery in Wensleydale (no, not the cheese), in an former train repair building at Leyburn station. As former head distiller, Barry put his skills to work developing their recipes and 49 trials later, they settled on the four that make up their range. I find it interesting that they launched with all four, the usual trick is to introduce one to market and then expand. Here, they have their signature gin which I am trying today, juniper heavy with Yorkshire hops, fresh grapefruit, flowers and spice, a peach and basil gin which also used apricots and vanilla, a spiced orange gin with winter flavours fig, cranberry and cinnamon, and finally a summery gin using elderflower, chamomile and apples. Despite being a new brand, the Signature Edition won a silver medal in the gin tasting category of the 2019 San Francisco Spirit Awards, so how does it taste?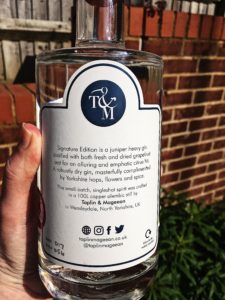 How does Taplin & Mageean gin taste?
Opening my bottle and it is juniper forward with a depth to it that I presume comes from using the hops. In the glass, the grapefruit oil hits you but retains an earthy note. Mixed with a splash of water and it louches ever so slightly, and is light and peppery on the tip of the tongue. It has a slow finish, allowing the spices to develop and build. It's very easy to drink neat, the grapefruit isn't as obvious as I would hope but it gives it a little acidic edge at the back of the tongue.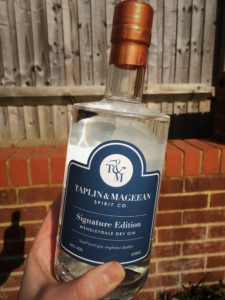 With some Fever Tree light tonic and the loucing continues (hi grapefruit oil!) and the grapefruit is more prominent than it was when it was neat. The hops bring a complexity to the flavour, the citrus is more pronounced at the back of the throat, and finally there is a gentle spice – a rich cardamom like a curry that's been simmering for hours. It has a lot of flavour without being a gimmick or overwhelming.
Where can I buy Taplin & Mageean gin?
You can get your hands on a 50cl bottle of the 42% Signature gin from their website for £29.99 (at time of writing). I was about to say this is a great deal but someone pointed out on Twitter that it seems good due to the bottle size, this works out at £42 for 70cl. But I really like it. You can find them on Facebook, Twitter and Instagram.
Have you tried Taplin & Mageean gin? Let me know your thought on Twitter and Instagram.