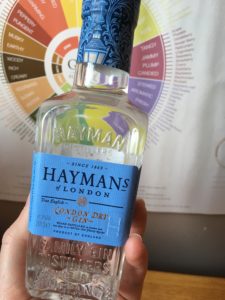 You can't talk about English gins without mentioning Hayman's Gin. The Hayman family have been involved in the gin industry since the original gin boom 150 years ago, opening doors in 1863. Since then, their range of 'True English' gins have been distilled and made just as they would have been back then. Running three stills at a time (Marjorie the grandmother of the current Hayman's, Karin the mother and Miranda the current fifth generation distiller who FYI is one of the nicest people you'll ever meet) they blend ten botanicals including cinnamon, nutmeg and liquorice together to make their London Dry gin. But it doesn't stop there – they also have an Old Tom gin, a sloe gin, a navy strength edition and a gently rested gin – not aged, just rested. They have recently moved to Balham to a BEAUTIFUL new distillery which is open for tours which I highly recommend as it is so lovely I want to move in – and not just because when I went they said the words "help yourself to whatever you want". They also have branded lemon peel.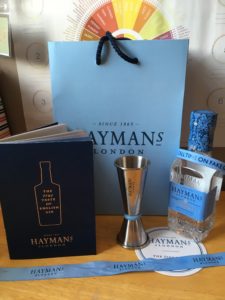 Tearing open the paper seal makes me a bit sad as it's so pretty, but luckily I'm able to power through my emotions and pop open the cork. It smells delicious; heavy on the juniper and citrus. There's a hint of spice behind it which gives it some depth, but it is subtle and well balanced. Once it's poured into the glass, the smell becomes quite dense and heady, which after a hefty day at work and a rubbish commute is quite welcome at Casa Jenny. A splash of water allows the juniper to really come to the front and it is a delight to drink. The juniper is there giving you fresh pine on the tip of your tongue, warmth similar to allspice and cinnamon comes through before a touch of citrus to lift it at the end. Very smooth.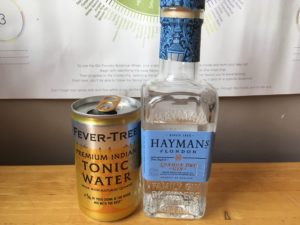 Very easy to drink. Mixed with some Fever Tree tonic and the bitterness from the tonic makes it a deeper drink, rooting it in the earthier notes rather than the zesty freshness. Adding a piece of lemon peel (well, three stumpy pieces as I suck as peeling lemons apparently) and it's lifted out of the earth and into the refreshing summary drinks category. Basically, what I'm saying is, I can drink this all day.
A 70cl bottle of Hyman's London Dry gin is available on their website for £26 (at the time of writing) which, frankly, is a great deal. You can find Hayman's on Facebook, Twitter and Instagram.
Have you tried Hayman's gin? Let me know your thoughts on Twitter and Instagram while I go pour myself another one.
I'd like to thank Miranda for her great hospitality at the most recent Gin Geeks meet up (and for the goody bag!) along with a thank you to Olivier and Emile at Gin Foundry for organising such brilliant afternoons which bring online friendships into the real world.