Note: From a previous career, I know one of the co-founders of TOAD gin and when I met them at Junipalooza they kindly gave me a sample to try. As always, I will let you know what I think.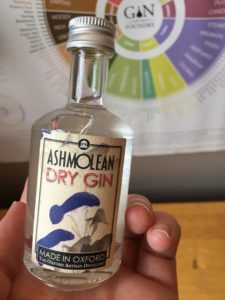 Ashmolean Gin is the product of the collaboration of The Oxford Artisan Distillery and the Ashmolean Museum of art and archaeology. Different to the TOAD gin you might recognise, this gin is inspired by the museum's collections from around the world and features 17 botanicals including jara lemon, rose, jasmine and spices from the Middle East and Asia. This is complemented by the label illustration taken from Spray of 'Morning Glory' by Takeuchi Seiho, a piece you can see if you visit their Eastern Art collection. TOAD are the first distillery to open in Oxford and have an ethos around distilling spirits from grain to glass using heritage grains from a 50 mile radius of their site – all sustainably grown and managed.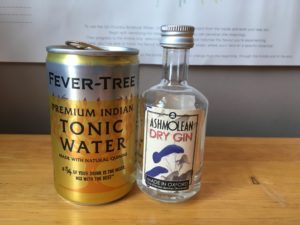 As I have a 50ml sample, imma just sip this neat and then make a g&t. From the bottle, even my blocked nose can pick up the floral tones and a hint of eucalyptus. In the glass, there is something familiar about it that I can't quite put my finger on – and even recruiting Leanne to help doesn't identify it. There's a depth to it and a warming spiciness, but it's not overpowering. A sip of it completely neat (no water or anything) and after the initial tingle on the lips, it is actually rather smooth to drink. The cardamom comes to the front but it has a very quick finish. It is fairly simple neat, I'm not picking up many other flavours as it travels over the tongue.
Adding some Fever Tree, the flavours are able to come alive and you pick up some more subtle notes that weren't there before. Cardamom still, but traces of liquorice, juniper, something sweet and thick like honey and an overall lightness that I associate with floral gins. You don't need a lot of tonic with this to wake it up, indeed, I think if I had much more tonic the flavours would be drowned. It reminds me of the classic phrase I learnt in Vietnam, "same same but different". It tastes like gin, but there's something about it that I can't quite put my finger on.
You can buy yourself a 70cl bottle of the 40% ABV gin from the Ashmolean museum website for £39.50 (at time of writing). You can follow TOAD on Facebook, Twitter and Instagram.
Have you tried Ashmolean gin? Let me know your thoughts on Twitter and Instagram.