Note: I contacted Fatty's Organic gin and they kindly sent me a sample to try, but as always, you'll know if I don't like it.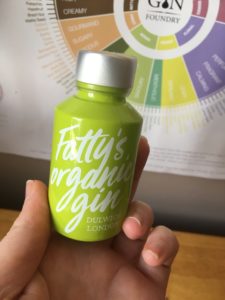 You certainly can't miss Fatty's Organic gin on a shelf – the bright green bottle makes sure of that. At the heart of the brand is the need to be organic. Not just slightly organic but 100% organic. In all my drinking time, I've only come across one other gin that claims to be 100% organic (although please do correct me if I'm wrong) and I wouldn't be surprised if this is the next shift for craft gins. Unable to find many options, Fatty (as she is affectionately known) started experimenting in her garden shed. Living in Dulwich, dill became her primary flavour – did you know that Dulwich historically means "the meadow where dill grows"? No, me either. Fatty has worked alongside The Soil Association to ensure everything is done properly, and has been accredited by them.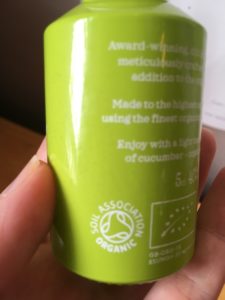 Opening my little bottle, it smells a touch like mustard and salad. I'm guessing this is the dill which is adding a touch of pickle and vinegar – although this could just be my mind playing tricks on me. In the glass that tones down slightly and smells slightly grassy. As I have 50ml I'll be sipping this neat, and it tastes stronger than its 40%. It is however fairly smooth, and not overly flavoured. I was kinda hoping for more dill, and there's a warmth on the tip of the tongue and the lips. Although perhaps this is just the booze.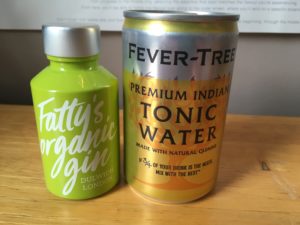 Mixed with a splash of tonic and the herbs come alive, but not in an over the top way. Some herbal gins are too much, this is a good flavour and balanced with a touch of spice. A splash more tonic and this is rather nice. There is a touch of citrus at the end of give it a sour note at the back of the throat, but it balances with a touch of sweetness at the front. I'm not sure I'm picking up the dill…but I don't know if I could pick dill out of a herby line up. Overall, I'd say this is a rather nice gin and tonic. The juniper is discernible, it is dry and tastes like a gin and tonic, yet there's a hint of acidity to it to give it a little twist.
You can buy a 70cl bottle of the 40% ABV gin from Master of Malt for £43.64 (at time of writing) which is fairly pricy but if the origins of your gin is important to you, then you pay the price for a sustainable and organic product. Hopefully if this becomes the norm then the price will drop. You can follow them on Facebook, Twitter and Instagram.
Have you tried Fatty's Organic gin? Let me know your thoughts on Twitter and Instagram.