Note: I contacted Lincoln Imp Drinks Co and they kindly sent me a bottle of their Dam Raider gin to try, as always I will let you know what I really think.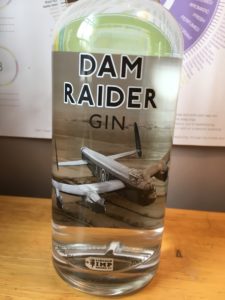 Dam Raider gin has an awesome bottle. At first glance, it just has a picture of a Lancaster bomber on the front. Hold it up and, thanks to 3D technology, you can see it flying over Scampton. The back label shows authentic extracts of a log book from a 'Dambusters' crew member. Lincoln Imp Drinks company created the gin to commemorate the Dambusters raid in World War II, and from every bottle of Dam Raider gin sold, a donation is made to the Thorpe Camp Visitor Centre – home of the squadrons that flew out of RAF Woodhall Spa in the 1940s. The gin itself has been made with juniper as the prominent note, along with five other botanical which feature citrus and warming spices. They say this blend leads to a "smooth, long palate" – so let's see how it tastes.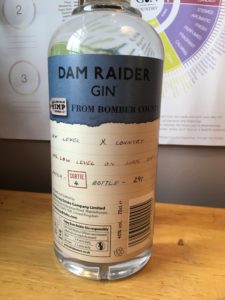 Breaking the seal and popping open the cork, a distinctly ginny smell wafts towards me. It's heavy on the juniper and the citrus but also with a hint of vanilla. In the glass, it is bright and fresh and really wakes up your senses. Mixed with some water, it has an almost oily quality to it, with a bit of a shine. It's very smooth and easy to drink, there's no shudder as the alcohol hits your tongue, there's no squiffy face. It's fairly plain at first, then there's a tingle of pepper on the tip of your tongue which fades to leave a pleasant juniper scent hanging around. With an equal amount of Fever Tree tonic there's a sudden bitterness to it which travels up from your mouth to the back of the nose. At first, it was unpleasant, but after a few sips it settles down. There are hints of pine and spice, but not as much flavour as anticipated. Adding another splash of tonic and the bitterness disappears, and a more delicate flavour comes through – with a hint of elderflowery cordial, thick and syrupy. The spice has gone, but this is much better – note to self: not all gin NEEDS to be a 1:1 ratio of gin to tonic.
You can get yourself a 70cl bottle of the 40% gin on the Lincoln Imp Drinks website here for £39.60 (at the time of writing). Perhaps for me this is touch too high in the price range, personally I don't think there's loads of flavour but at the same time it is really rather tasty. You can find them on Facebook, Twitter and Instagram.
Have you tried Dam Raider gin? Let me know your thoughts on Twitter and Instagram.