Note: I contacted Arcturus gin and they kindly sent me a bottle to try. As always, you'll know if I don't like it!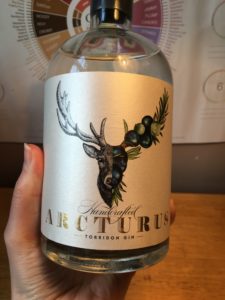 Arcturus gin is one of those bottles that you see and go "man, that's a damn fine label". I don't like judging a book but its cover, but I do it all the time. If the label is anything to go by, the gin should be pretty good. Named after one of the brightest stars that can be seen from Earth, this Scottish gin is made using local highland botanicals that have been foraged and blended with water from Loch Torridon. The botanicals include Scots Lovage (similar to parsley), blaeberries (abundant in the Highlands) and kelp seaweed from the coast. Based in The Torridon Resort, a 58 acre hotel set in the heart of the highlands, this gin is as crisp and clear as the loch water and bottled at Dunnet Bay Distillery – best known for their Rock Rose gin.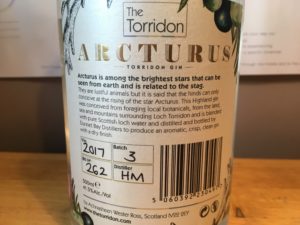 So, how does the taste compare to the labelling? I'm lucky to try a lot of gins, and I haven't come across one with a wax seal for a while so that's a nice start. In the bottle it smells like a big, deep pine forest. Rich and heady and mouthwatering. In the glass it calms down slightly and lets some menthol notes creep in there. With a splash of water, the delicious pine disappears from the nose and is incredibly smooth to drink. I was expecting this to be quite vegetal and herby, but instead it's very clean and just a hint of spice tickles you at the end. There's an underlying floral lightness at first sip, but it fades quickly. After a few mouthfuls, I can pick up a sweetness at the very start and a certain thickness to the feel of it.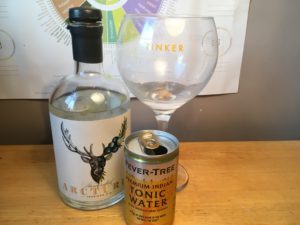 Mixed with an equal amount of tonic (Fever Tree, obvs) it's slightly harsh on the tongue at first, but on the second pass the flavour lights up on your mouth. It's fairly complex on the palate, but with a quick finish that leaves you wanting more. There's a honey-like sweetness up front which is followed by a sprinkle of heat before a tartness finishes off the flavour. I may or may not be swayed by the branding, but I'd like to be snuggled up by a fire when I drink this. It is reminiscent of the feeling that Christmas flavours bring, but with none of the heaviness. I am happy.
You can get a 50cl bottle of the 41.5% gin for £36 (plus £4 delivery) by contacting the Arcturus team here. I think this is worth it. It's full of flavour and so you won't finish the bottle quickly, as this is meant to be savoured and enjoyed. You can find them on Facebook, Twitter and Instagram.
Have you tried Arcturus? Let me know your thoughts on Twitter and Instagram.