Note: I met Lukasz from Pothecary gin at Junipalooza and he kindly sent me a bottle to try – as always, you'll know if I don't like it.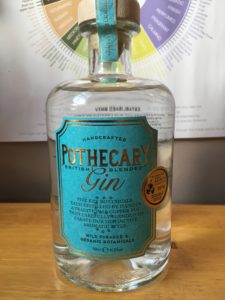 Pothecary gin was created because two friends share a passion for artisan – and organic – produce. This isn't a London Dry style gin, they label theirs as "British blended" because they do things a bit differently over at Pothecary HQ. They distil each botanical separately and then blend these together before adding the water to lower the ABV. I'm not sure I've come across another gin that uses this method – gins that add flavours after the distillation certainly, but distilling each botanical on it's own? Let me know if that is less unique than I think. Alongside the usual suspects of lemon peel (organic) and juniper (foraged) they use only three more botanicals – organic lavender and wild foraged tilia flowers and black mulberries (also organic). So how does this taste?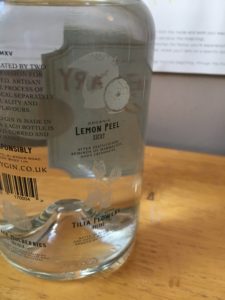 Opening the paper seal and unstoppering the worryingly lose cork (note to self: do NOT knock this one over) allows a beautiful smell to drift towards you. The lavender is noticeable along with a deeper sense of tea. It's rich and aromatic, very enticing. In the glass, the juniper is allowed a free-er rein and knocks you hard. Adding a splash of water and a very medicinal note is the most noticeable thing when it hits your tongue. After a few more sips, the subtler aromatic notes come through with the lavender being the key flavour.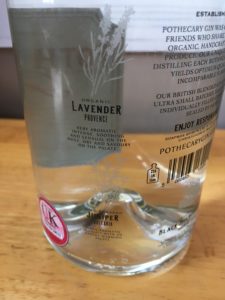 Mixing the gin with some light Fever Tree tonic (pretending to be healthy and stuff) and the botanicals are released and the flavour is full on. It's strange, it's quite floral but not at all sickening or sweet. There's a deep earthiness to it which comes from the tilia flowers, they bring a richness to it which is balanced by a small touch of honey at the back of the tongue. Adding a touch more tonic helps to tone down the bitterness that comes and allows the more perfumed notes to shine and bring a better balance to the mouth. It has a quick finish that leaves a dryness in the mouth and a slight thickness that lingers at the back of the top of your mouth.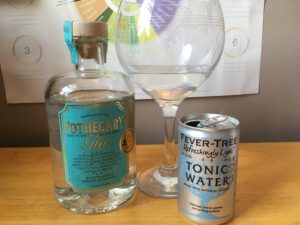 You can get yourself a bottle of Pothecary gin from Gin Kiosk for £39 (at time of writing) – note: these bottles are only 50cl not the standard 70cl, but it is bottled at 44.8%. To be honest, for a 50ml bottle, I don't think I would get this sadly. Bring the price down to the £30ish mark and I'd be convinced. In my "halfway through buying a house" phase, this can't be justified in my mind. You can find Pothecary gin on Facebook, Twitter and Instagram.
Have you tried Pothecary gin? Let me know your thoughts on Twitter and Instagram.