Note: The Artisan Drinks team sent me some samples to try, but I will always let you know what I really think.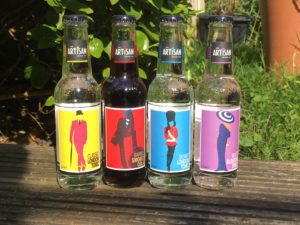 Who are The Artisan Drinks Co.?
The Artisan Drinks Co. started as all good partnerships start – when a group of people met in a bar. Steve, an entrepreneur who previously created Feel Good Drinks, and Alan, a Yorkshire based artists, met Mikey, an award winning bartender, and the Artisan Drinks Co. was formed. They created their drinks in the bar as accompaniments for their favourite spirits. They use 100% natural ingredients and produce in both the UK and Australia in some damn fine bottles. So what is their range?