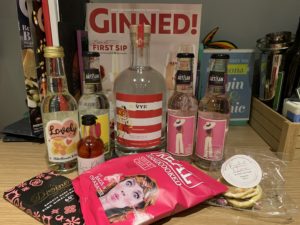 As you'll probably know if you read my blog, I am a long time member of Craft Gin Club. My next delivery is due in March, but when I saw the announcement that February's box is an exclusive release from Gŵyr, I had to get myself a box. The newest member of the family is a Valentine's special featuring their distinct foraged wild fennel alongside pomegranate seeds, red rose petals and fresh pink grapefruit zest. The label may be pink, but the gin isn't. Rhamanta has two meanings: the first is an old Welsh tradition of divining your romantic future, and the second is the translation "be romantic". Because what says romance more than shovelling grains of wheat over a fire to see when they pop and then commanding someone to be romantic? Siân and Andrew liked the idea of "romance" counting as the act of sharing your gin with your partner, friends and family – sharing gin love is the best type of romance. Made in their distillery at the bottom of their garden, surrounded by their family (who are the team), over looking the sea, this gin also helps celebrate the couple's 30th anniversary. Let's raise a glass to Brooks' and see how it tastes.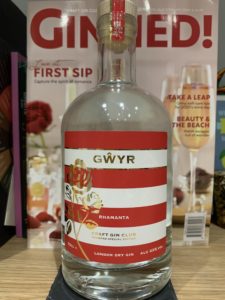 Opening my bottle, and whilst there are a lot of botanicals in there, you know it is gin with the amount of juniper you can smell. There are wafts of floral perfume, but nothing too heady. In the glass you get a really good balance of citrus and pine, I already want a large glass of this by the seaside. The pink grapefruit really shines when you add a splash of water, an abundance of sourness which stays with you on the tongue. I'm happy about this as I was worried it might be too floral but this is so vibrant and yet balanced with the woody juniper and fresh fennel.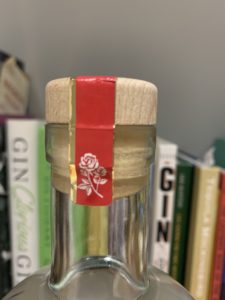 They recommend using Artisan Drinks' pink citrus tonic as their perfect serve which came in the delivery, but I'm starting with light tonic for consistency. It's bright and fresh, you get sharpness from the citrus and pomegranate, a hint of fragrance from the rose, and a cooling aftertaste. It all works in perfect harmony. In summary, this is grand. I've moved on and mixed it with the pink citrus tonic and garnished with the supplied dried lemon and rosebuds. It's a tad posh, but I love the flavour. As someone that doesn't usually like sweet drinks, this is delightful.
The 43% ABV gin is exclusive to Craft Gin Club members, so why not join? If you use this link https://prz.io/A5bmgvtE then you get your first box half price (and I save money on my next box). They usually then put leftover bottles up for sale on their website and I might be grabbing another one. You can find Gower on Facebook, Twitter and Instagram.
Have you tried Rhamanta gin? Let me know your thoughts on Twitter and Instagram.