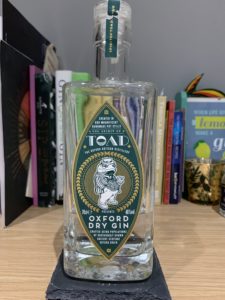 Fun story: my first proper job out of university was working in marketing and events for entrepreneurs and investors. Obviously I then added all my favourite people on LinkedIn. Fast forward a few years and up pops a notification from Tagore Ramoutar saying he is excited to be launching a gin. Last year at Junipalooza I went along to the TOAD (The Oxford Artisan Distillery) stand and guess who was there? We had a good catch up and he kindly gave me a sample of their Ashmolean gin. But today, thanks to Gin Kiosk's clear out sale in December, I now have a bottle of their Oxford Dry gin. They claim to be the only distillery in the world to use ancient heritage grains in their spirits, which are grown by local, organic farms in sustainable ways. Taking inspiration from the Victorian era, the team approached South Devon Railway Engineering and some of the last British copper smiths who worked for two years to build two copper stills. Firstly, a 2,400l still named Nautilus, and secondly a 500l still called Nemo (big Jules Verne fans here) which, alongside five copper column stills, allows them the freedom to be creative. Their final recipe contains everything you would expect from a classic gin – juniper, coriander, orange and lemon peel, meadowsweet and a touch of nutmeg plus a few other botanicals, so how does it taste?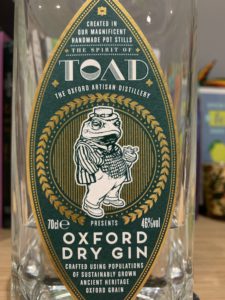 Popping out my glass stopper (I must say, I do enjoy a square bottle) and you get wafts of citrus and a hint of earthiness. In the glass it opens up and becomes quite heady with a big green leafiness but you can sense a bit of sweetness behind it. Adding a splash of water really brings out the vibrancy of it, and on the palate it is very herbal and fresh. There is something behind the grass that gives it a woodiness (that's probably the nutmeg tbh). It's interesting, I can't pick up much of the juniper, but I don't hate it.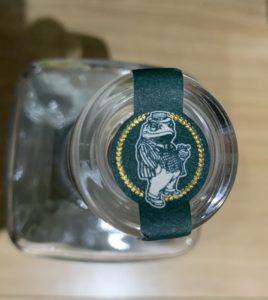 Mixed with Fever Tree light and it's quite different. It's very aromatic, with a really slow, lingering finish. On the tongue it's initially quite bitter, turning into a rich warm spice, before a wave of menthol just fills up your mouth. It's very complex. Still not picking up much juniper though. It's not bad, but I would like a bigger whack of juniper. It's a tad too grassy for me.
You can get a 70cl bottle of the 46% gin from their website here for £39.50 (at time of writing). Pesonally, despite loving the bottle and labelling and team, it's not something I want all the time so I don't think it is one for me. You can find them on Facebook, Twitter and Instagram.
Have you tried any of the TOAD range? Let me know your thoughts on Twitter and Instagram.