Note: The team at The Lakes Distillery sent me a sample of their new gin to try, as always I'll let you know what I think. This post contains affiliate links marked as [Ad], if you click on this and buy a bottle of gin then I will receive a small commission.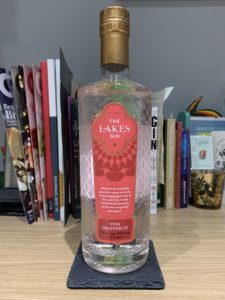 As you might have seen, just before Christmas I received a sample of the new Lakes Distillery gin following a tweak to their recipe and a serious upgrade to the bottle. Now the team have released their newest addition to the line up which takes inspiration from their favourite serve. When drinking a gin and tonic, I love to garnish it with a wedge of pink grapefruit, something that the team at The Lakes agree with. Bottled at 46% like their signature gin, this edition brings a big citrus hit to their traditional gin. The addition of the grapefruit brings a punch of flavour, with no added sugar or sweeteners, and they say no need for an additional garnish. So, how does it taste?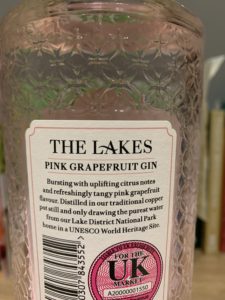 Looking at the bottle, the gin itself is a very pale pink – barely perceptible when you hold it up to the light. Opening my bottle and you definitely get that juicy, fresh grapefruit straight away on the nose. The vibrancy of the aroma stays strong even when left to breathe in the glass. Adding a splash of water doesn't dull the smells, but starts to bring out the acidic notes that I would traditionally think of with pink grapefruit. I think the team at The Lakes have achieved their goal – it tastes of pink grapefruit. Neat, it is a bit much for me, but I can already get a sense of it working in cocktails (perhaps a drop in a martini or a negroni for a citrus twist?) or as a longer gin and tonic. It's not that it tastes artificial when neat, but I think the intensity of the oils means it needs to be diluted slightly or combined with something to make the most of the flavours.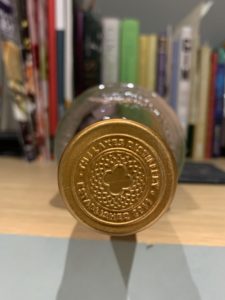 Mixed with Fever Tree light (50/50) and there's something off about it. I can't put my finger on it. I think perhaps the flavour is too intense for me, I'm not usually one for gins that don't taste of juniper. However, a splash more tonic helps to bring it down to a more palatable level. It's certainly tart and sour, leaving your mouth very dry – the taste is intense as it moves through your mouth then fades just as quickly as it started. Personally, I prefer this as a longer drink but want to try it in a few cocktails to bring that juicy citrus hit to the party.
You can get a 70cl bottle of the gin from Spirits Kiosk [Ad] for £32.45 (at the time of writing). If you're looking for a sugary sweet pink gin then this isn't for you, in fact when you add tonic the colour all but disappears. If you love your sharp flavours, this might be more up your alley. You can find them on Facebook, Twitter and Instagram.
Have you tried any of The Lakes Distillery's range? Let me know your thoughts on Twitter and Instagram.