Note: The team at The Lakes Distillery sent me a sample of their new recipe to try, but as always I'll let you know what I really think.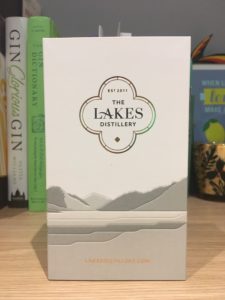 Back in February 2017, I was sent a sample of Lakes gin to try. Then, on my 30th birthday (10 October 2019 FYI) I received an email from the team saying they had reworked the recipe and had a beautiful rebrand to boot. After launching their single malt whisky, they have looked back at their gin and worked on it to ensure it stands the test of time. They've adopted a 'less is more' approach and now take a British wheat spirit as their base, and infuse in this their new range of botanicals; juniper and coriander are bound with angelica, orris root, cassia bark and liquorice before finishing with orange and lemon peel. They steep these in the spirit overnight to release the essential oils before distilling their gin in a copper pot still. Their rebrand reminds me of Mermaid gin, which was a great product in a fairly bland bottle; they get a jazzy new bottle and suddenly everyone takes notice. The new Lakes gin bottle features a new, leaner shape, an engraved glass bottle and a new label. The new recipe has also ramped up the ABV from 43.7% to 46%, hopefully ensuring the juniper is still front and centre. So, how does it compare?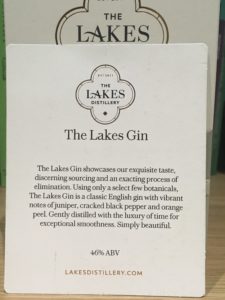 Opening my sample and you get a nice clean smell hitting your nose – hints of zest and smoke but nothing overpowering. In the glass it stays fresh, but it certainly isn't plain. Adding a splash of water allows the citrus to come out, the scent thick like essential oils and the brightness of the orange and lemon tingling the tip of the tongue. It has a mentholic quality to it, refreshing your whole mouth whilst a peppery kick plays across your mouth. It has quite a long and slow finish to it, your mouth going through the transition of flavours from citric to pepper to a smoked/herbal finish.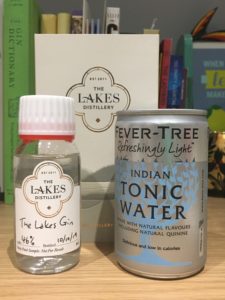 Mixing with Fever Tree light tonic (50/50) and the bitterness of the tonic slightly overwhelms the lighter notes and nuances that came through when neat, although you can still detect the peppery heat at the back. Adding an ice cube helps to tone down the quinine and allows those softer flavours to come back. The whole time it has kept this earthy presence lurking in the background to keep in your mind that this is a classic gin with juniper at its heart. With the tonic, I'm finding the finish a lot quicker and less intense, but this tastes like a proper classic gin. Sit me outside on a sunny day with a glass of this and I certainly won't be grumpy. It is clean, crisp and refreshing but with that little kick at the back of it to make it that little bit more exciting.
You can get a new 70cl bottle for £33 from their website (at time of writing – a £3.05 increase on their previous bottle). You can find them on Facebook, Twitter and Instagram.
Have you tried the new Lakes gin? Let me know your thoughts on Twitter and Instagram.