Note: Darnley's sent me a sample of their new gin to try, but as always, I'll let you know what I really think.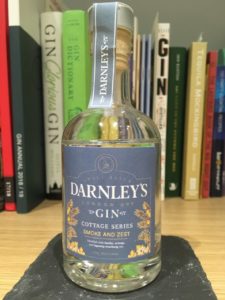 For today's tasting we are travelling back up north to Scotland, specifically the east coast of Fife to a town called Kingsbarn to try the newest in the Cottage Series released by Darnley's. At the 13th-century Wemyss Castle, Mary Queen of Scots met her future husband Lord Darnley – an occasion that later inspired the Wemyss family (who already run an established whisky distillery) to renovate a cottage and try their hand at gin distilling. They plumped for a London Dry gin style, first steeping their botanicals in a four times distilled neutral grain spirit, before distilling it in their 300l pot still for a fifth time. Their core range of gins started with their Original gin, inspired by the wild elderflower growing on their estate, which creates a light, floral gin. They then went on to make their Spiced gin which brings flavours of pine needles, peppercorns, cloves, rosemary and cardamom. They then created a Navy Strength edition of their Spiced gin, bringing it up to 57% and adding in more juniper to allow the flavours to shine even at this higher ABV. Because having three spirits isn't enough, Darnley's are now creating limited edition gins, known as the Cottage Series. These releases are inspired by the botanicals growing on their estate and beyond. The first, launched in July 2018, featured sloe berries, rosehip and elderberry and was originally named the Very Berry edition. Today we try their second release, the Smoke and Zest. For this, their distiller Scott Gowans has taken the home grown barley that is used in their single malt whisky and smoked it in his family's smoker with pine wood chips. They balance the smoke out with rowanberry and coriander (grown at the distillery) for a touch of sweetness and Turkish orange peel for that tang. The inspiration for this really comes from rowanberries, also known as Mountain Ash and it was this name that inspired Scott to look for something smokey to add to the citrus. The idea to smoke the barley over pine chips came from the production of Lapsang Souchong tea, to create what they call an unusual gin with juniper at its heart. So, how does it taste?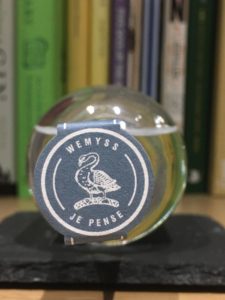 Opening my bottle and that smell of a smouldering log fire and old BBQ hits you straight away. In the glass, it is less intense and you get these riper, juicy citrus smells wafting up as well – an aroma that doesn't change with a splash of water. Neat it is reminiscent of a whisky with that heady, peaty notes that tingle your tongue and leave your mouth feeling like you've spent the night at a bonfire. This doesn't feel like a summer gin, but perfectly timed for the longer autumn nights. I wasn't convinced by this at the first sip, however as it settles in it is growing on me even though the smoky aspect isn't my favourite thing.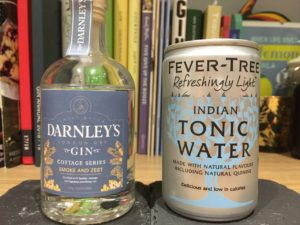 Mixed with a touch of Fever Tree light and the bitterness from the tonic enhances the smokey notes – it definitely reminds me of a black tea. To be honest, I can't really pick up the juniper through the smoke. The gin comes slightly more into balance with a bit more tonic (now at 25ml gin and 50ml tonic) and this allows the citrus to cut through. The citrus notes are really bright and work well to lift the gin out of the smokehouse and make it much more drinkable.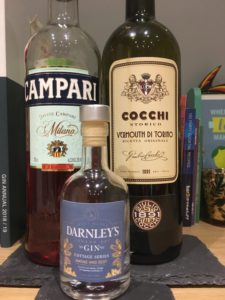 I'm not fully in love with it as a gin and tonic, so mix up a negroni using equal parts gin, Campari and Cocchi Vermouth Di Torino. DAMN that's a good negroni. The smoke works so well with the bitterness to give it a deep, rich flavour but a hint of fruit from the vermouth and the touch of zest works as a perfect pairing. I personally think this works better in a negroni than a g&t, and in a g&t better than neat.
They have produced just 2,400 50cl bottles of this 42.5% gin, and you can get a bottle from their website for £29.95 (sounds like a bargain, works out as £41.93 if it was the same price but 70cl) at time of writing. As a new fan of a negroni, I think this is a good way to jazz up your cocktail game whilst remaining in familiar territory. You can find Darnley's on Facebook, Twitter and Instagram.
Have you tried any of the Darnley's range? Let me know your thoughts on Twitter and Instagram.