Note: I pester Emile and Olivier over at Gin Foundry a lot and at Junipalooza they kindly handed me an apple mint plant and told me to be patient. Two months later, they have now gifted me a little bottle of gin to go with the garnish, but as always, I'll let you know what I think.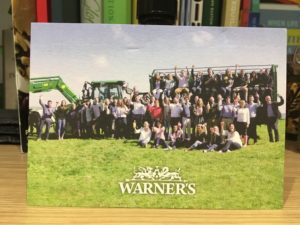 Even newbies to the gin game should recognise Warner Edwards, if not, they are basically the people that made the first rhubarb gin. They also make lots of other yummy gins, I'm particularly in love with their Honeybee gin with lemon, honey and a splash of hot water whenever I have a cold. They are very big on sustainability and grow many of their own botanicals (including the honey from their own bees) from their farm. They use water from their spring and are believers in good things coming to those that wait; no over harvesting here. Instead they try to put more back into the soil than they take. They've been besties with the Gin Foundry crew for a while, being one of the few brands that have been involved with Junipalooza from the beginning, and they have now teamed up for a limited edition gin. They gave the team at Warner Edwards a challenge – only use botanicals within a three mile bee flight of the distillery. They wanted to look at not just the botanicals that work together, but how the environment can shape a flavour profile and working with the land around you from planting through to harvesting.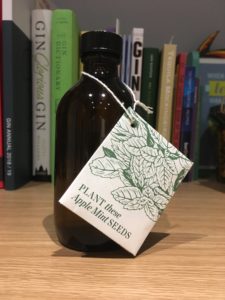 This approach fits with the Warner Edwards ethos, but also presented a challenge – if you can't use citrus fruits, coriander seeds or angelica root, what do you put in your gin? Luckily within the three mile radius they have a plethora of goodies including lemon thyme, lemon verbena, lavender, chamomile leaves, bee pollen, dandelion root, toasted applewood and some homegrown green juniper (note: some juniper is also bought in from further away, but they understand that real gin actually tastes of juniper so needed to up the game slightly). Each bottle is preceded with a pack of seeds so you can grow your own apple mint garnish. My seeds seem to be struggling, but luckily I have a pregrown one to fall back on. So, how does it taste?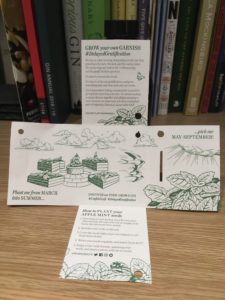 Opening my little bottle and you get a good hit of juniper, followed swiftly by a heady perfume and a whack of citrus. In the glass this mellows out and comes together to be a bit more cohesive. The lavender is certainly noticeable but doesn't seem overwhelming, but adding a splash of water to this really brings this to the front. On the tongue, it's less perfumed than it smells, but it is a big flavour that fills your mouth before a very long, slow finish. You get hit up front with a punch of spice, then the lemon verbena brings a nice citrus hit at the end with a touch of sweetness. I think neat, this is verging on too soapy for me – love the smell of lavender but it's really not a flavour I love in my gin.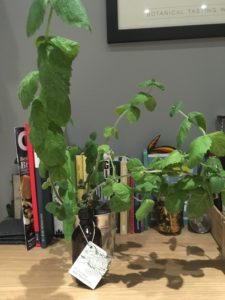 Mixed with Fever Tree light (50/50) it's still quite perfumed so I've thrown in one of my apple mint leaves and the herb helps to balance it. There is a lot of flavour crammed into this bottle, and it is pretty amazing that so much can be found in such a small area. Adding in a touch more tonic (25ml gin to 50ml tonic) and the flavours become more equal (in my opinion). The lavender calms down and you can appreciate the citrus tones to the gin and the gentle mint flavour is adding a savoury touch to the end. I definitely prefer this with a little bit more tonic as it helps to counteract the headier notes, brings the juniper and citrus back into the mix and generally makes it easier to quaff.
You can get yourself a 70cl bottle of the 40% Farmed & Foraged gin over on Gin Kiosk for £40 (at time of writing). You can find Warner Edwards on Facebook, Twitter and Instagram, along with the Gin Foundry team on Facebook, Twitter and Instagram.
What's your favourite Warner Edwards gin? Let me know your thoughts on Twitter and Instagram.