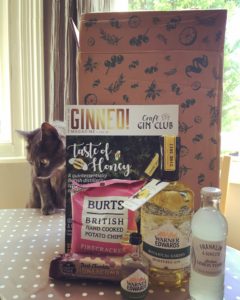 It's June which can only mean two things – it's nearly World Gin Day and I've got a Craft Gin Club delivery! Firstly can I say how much I'm enjoying the new branded boxes guys – they look SO much chirpier than the old plain ones! Secondly, this is a bumper box. We have the world exclusive look at the new Warner Edwards Honeybee gin. That's right, they have chosen the lucky Craft Gin Clubbers as the first people to get their hands on the new addition to their Botanical Garden range. Also in the box is a miniature of their Elderflower Gin, a bottle of Franklin & Sons Lemon Tonic, a bag of Burts Firecracker Lobster crisps and a bar of Mighty Fine Dark Chocolate and Honeycomb. Nom nom nom.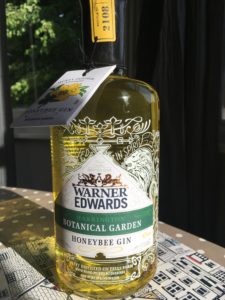 The Botanical Garden range came after a year of hard toil for the Warner Edwards team building their new garden – a haven for butterflies and bees. After admiring the bees, and learning about how we are basically killing them all, Tom Warner wanted to do something about it. To unite gin lovers behind the cause, and use fresh honey from their beehives to make their newest gin. This gin uses 28 botanicals, alongside the honey it includes dried grapefruit peel, chamomile, lavender, quince, rose petals and sage, to create what they call a "zippy, light gin". Each bottle comes with a packet of wildflower seeds to encourage drinkers to do their bit for the bees. Living in a first floor flat, I'm not sure I can use these however, I'll be taking them home to my mother's house next week and forcing her to plant them in her garden.
Opening the bee-emblazoned seal and popping open the cork, the smell hits you straight away. It's sweet and floral and zesty, the sweetness coming to the front in the glass. Mixed with a touch of water, there are three main flavours that come out. A sweetness that almost has a hint of vanilla to it and slightly creamy – presumably from the honey. A herbal note from the rosemary and sage, and then a floral lift at the end from the rose and hibiscus. It's very smooth and easy to drink.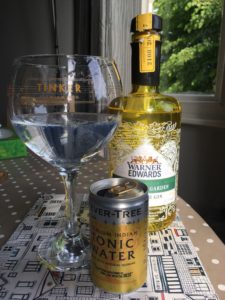 Made into a G&T with a can of Fevertree tonic [Note: It was delivered with a lemon tonic, but I didn't want to mix up the flavours for the blog, so went for a regular Indian Tonic so I can at least pretend to know what it tastes like] and it has quite a herby nose to it [Note: I mean nose in the sense of 'I've just taken a mouthful of gin and the smell is hitting the back of my throat and nose' kinda way]. The honey leaves a trace of sweetness at the back of the tongue and manages to balance out the flavours. This shouldn't work. There are a lot of competing, and not always complimenting, flavours but it seems to work. It's not too floral or sweet or herby. It's certainly all of these things, but in equal amounts. It's quite a big flavour, but still leaves a dry taste in your mouth without too many reminiscent odours.
You can't buy a bottle of Honeybee Gin yet (sucks to be you), but their full range of gins is available online at Master of Malt. You can find Warner Edwards on Twitter, Instagram and Facebook.
I like when people get in touch, so hit me up on Twitter and Instagram.