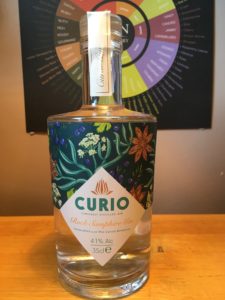 I went to Junipalooza last weekend on World Gin Day and I bumped into the folks from Curio gin. After gushing about their branding and having a chat, they kindly gave me a bottle to review properly on the blog. Curio Gin comes from Mullion in Cornwall – a mere 30 minutes from my Dad's house (Happy Father's Day Dad!) and has one of my favourite bottle labels ever. Their range includes the Rock Samphire Gin, a Cardamom Vodka, a Cocoa Nib Vodka and their Cornish Cup. Hand foraged on their local cliff tops, the rock samphire is blended and distilled in small batches.
Opening my glass stopper (feeling classy this Sunday afternoon), it smells like the sea. The salt from the Rock Samphire makes it smell like an afternoon down the beach. Mixed with some water, it is super smooth and very easy to drink. A slight savoury note at the back of the throat but other than that, it is creamy and gentle on the tongue. It was recommended that, if I HAD to mix it with tonic, I do so with Franklin and Sons Natural Light Tonic. So I do.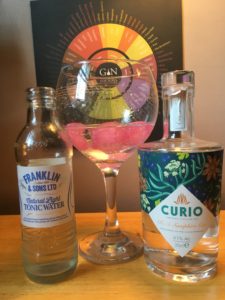 The gin is simple. Some might call it vanilla – I call it well executed. I think there is a big trend in gin to make big, punchy flavours and have something bold about it. It's nice to find a gin that just aims to make a good gin. The salty touch at the end lifts the flavour and makes it memorable and unique. My plans for the second this is published? Clamber out onto my fire escape and enjoy the end of the sunshine in my camping chair with another glass or two of this. Because I'm classy.
A 70cl bottle is available on their website for £36 and this is now going to be a permanent fixture in my collection. You can contact them on Facebook, Twitter and Instagram.
Have you tried Curio Spirits? Let me know your thoughts on Twitter and Instagram.