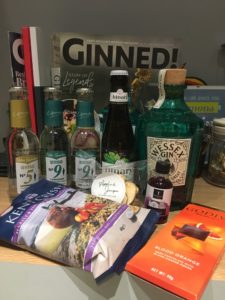 It's September which means it is Craft Gin Club delivery time again! This month's gin comes from Wessex Gin (along with a host of goodies including my fave cardamom tonic from Peter Spanton). Gin distilling is not a new venture for the founder of Wessex Gin, Jonathan Clark. Jonathan was the founder of the City of London Distillery (about 5 mins from my office, see my thoughts on the Six Bells gin and Square Mile gin) and when retirement didn't suit him, he and his family decided to start all over again. The City of London Distillery is so ingrained in London, and when Jonathan and wife Gill moved to Wessex, they wanted that same connection to their surroundings. Having grown up in the countryside of Hampshire, we visited many a Roman/Saxon/Tudor sites thanks to school trips, and it's this Anglo-Saxon time that inspired this gin. Specifically, the stories of King Alfred the Great, the man that scared off the Vikings (which was no mean feat). This era embraced the magic and the mystic, herbs were used for their healing properties and this has never really faded in the gin industry with a strong focus on the roots of their botanicals. The Anglo-Saxons were big on herbariums – a book listing herbs and their properties – and it is this that the Clark's used to source their botanicals. Keen to make a classic London Dry gin which is heavy on the juniper, Jonathan also favours citrus led gins, with a hint of coriander and medicinal chervil, nowadays bringing an aniseed quality but also reportedly soothing stomach ailments – did you know King Alfred suffered from stomach problems with people thinking it was akin to Crohn's Disease. So, how does it taste?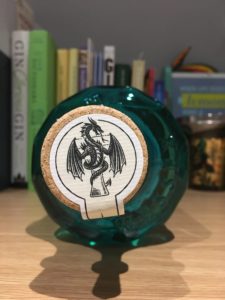 Opening my bottle (after carefully peeling off the lovely paper sticker) and you certainly get that beautiful pine smell mixed with clean, fresh rain. There is something slightly perfumed on the top of this, but it's very gentle. This doesn't change much in the glass, still predominantly juniper but that liquorice type smell from the chervil is layering over this. Adding a splash of water and it is bright, refreshing and a little bit peppery as the flavours develop. It has a very delicate taste, but the dry feeling lingers in your mouth for a surprisingly long time. On the second mouthful, the aniseed comes forward and fills your nose with that mentholic sense that wakes you up instantly. Despite this, it is clearly gin, the juniper is clear and no pretentious botanicals distract you from the fact that this is a proper gin. Which is very easy to sip neat.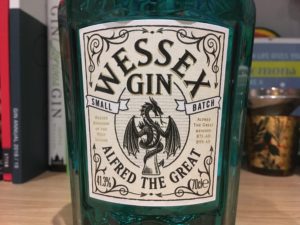 They recommend the perfect serve with the Peter Spanton Lemongrass tonic and some apple slices, but for blog consistency I'm starting with Fever Tree light (because I love Peter Spanton tonic but it's hard to get your hands on). In a 50:50 ratio, the gin holds it own against the tonic and that lingering pepper is still detectable so it's not plain. I think plain is the wrong word here, but simple might be correct. In an ever growing marketing of pink gin and fruit liqueurs, it's refreshing to find a brand who just make a classic gin. There's plenty going on here for your tastebuds to enjoy, but nothing here feels synthetic or fake. Even increasing the amount of tonic in the glass and you can still detect the aniseed and juniper. Personally I wouldn't take it further than one part gin to two parts tonic as the flavour here is still enjoyable but the bubbly tonic is balancing it. Plus I like my gin strong.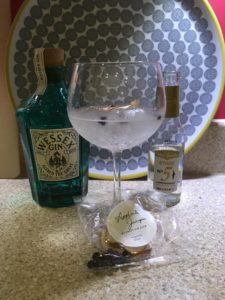 I went on to try this with the lemongrass tonic, which isn't my favourite tonic but nevertheless it is a fresh combination. The lemongrass and apple works well together, but the flavours overpower the gin. Frankly, this could be made with any gin (or just enjoyed on its own), so I prefer this with an unflavoured tonic which allows the gin to shine through.
You can get a 70cl bottle of their 41.3% gin from their website for £35 (at time of writing). You can find Wessex gin on Facebook, Twitter and Instagram.
Have you tried Wessex gin? Let me know your thoughts on Twitter and Instagram. Are you a member of Craft Gin Club? Join today using GinPals15 and say Jenny McLaren recommended you and we both get £15 off our next boxes.