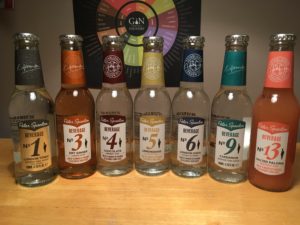 As part of my ongoing quest to make sure my gin is as good as it can be, I've started looking at tonics and the range that is now out there. A unique player in the market is Peter Spanton who like to do things a bit differently. I've tried their original No. 1 tonic in one of my tonic taste tests (which you can read here), but in this post I'm going to explore some more of their flavours.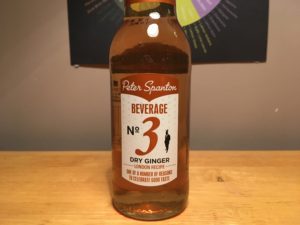 No. 3 Dry Ginger
This ginger ale reflects the taste of 1950s London and is the perfect accompaniment for a robust whiskey or bourbon. I'm a fan of gin and ginger mixed together for a fiery change to a normal g&t.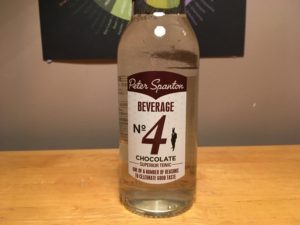 No. 4 Chocolate
Chocolate tonic water? Yet the liquid is clear? This baffles my mind – the tonic is blended with mint and dark chocolate which balances the quinine. Peter Spanton recommend this being mixed with rum, brandy or amaretto. On it's own it certainly smells of mint chocolate, which for me is terrible because no one should add mint to anything. It's grim. And it tastes like mint chocolate. Bleugh. But in the name of research, I mix up two drinks: one with Conker Gin and one with Ron Zacapa 23 rum. It goes ok with the gin, I think the flavoured botanicals cancel out a lot of the mint, but there's still hints of it left over in your mouth. Mixed with the rum it tastes pretty bad, but then I remember I don't drink a lot of rum so add more tonic and it works better. It definitely makes more sense with rum, but for me the mint is still a bit overpowering. I quite like the chocolate after taste, but the mint – not so much unfortunately.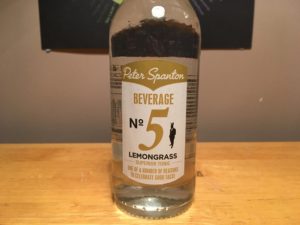 No. 5 Lemongrass
The Lemongrass tonic mixes the sweetness of lemon with the fire of fresh ginger for this whole new take on a mixer. They recommend mixing it with vodka – but are happy to go with whatever you want really to create your own refreshing drink. On it's own this is really nice – slightly cloying so I don't know if I could drink a whole bottle, so I mix it up with some Conker gin. It's really nice. Again, I don't think I could spend my evening drinking them, but as something light, summery an different this is great. I imagine it would work well with a gin like Opihr which brings some spice with it.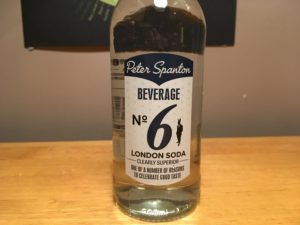 No. 6 Soda Water
A simple soda is a great thing – mixed as a soft drink with elderflower cordial is a personal favourite of mine. Peter Spanton bottle theirs with purity in mind – clean and refreshing, but certainly not simple.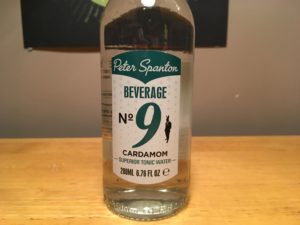 No. 9 Cardamom
I've tried the Cardamom tonic before and it really wowed me – with and without gin. Indeed, this is perfectly matched with gin, many of which use cardamom as a botanical. I pair this with some Drumshanbo gin and it is just as good as I remember. A slight warmth from the tonic and the spice from the gin work perfectly together. even on it's own I could drink this all day. I cannot recommend getting yourself a bottle of this enough.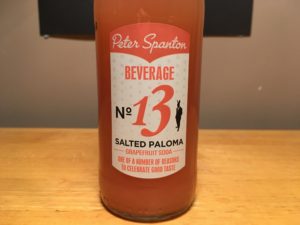 No. 13 Salted Paloma
This mixer is essentially a grapefruit soda water, meant to be enjoyed on its own or mixed into a Paloma cocktail with tequila or mezcal and a touch of lime. On it's own its super tart, like you've just had a mouthful of pink grapefruit (funnily enough). I like it. Mixed with a measure of Drumshanbo gin (and a lime wedge) this creates a nice summery cocktail – a hint of spice from the gin mixes with the tartness of the gin to balance out. This would be lovely on a summer's evening. It also works well for an autumnal dark Thursday. With some Sierra Tequila Reposado (complete with sombrero lid) and some lime, the tonic mixes well with the tequila. I think this works really well as a sour cocktail, but I'm not sure I could drink more than one – until I've had a few sips and it is now officially my favourite cocktail. Can I have another?
Have you tried Peter Spanton's tonics? Let me know your thoughts on Twitter and Instagram. Make sure you find them online too – here on Facebook, Twitter and Instagram. Peter Spanton isn't readily available in shops unless you're in London and can pop into Selfridges or Fortnum & Mason. But it is available to order online from a number of places – a list of which you can find here.