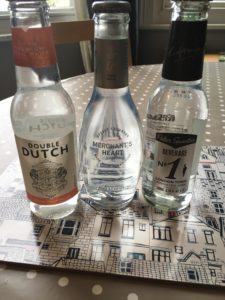 For those that missed it, I conducted a blind taste test of Fever Tree, Fentimans and Franklin and Sons tonic waters (in the name of science of course). After checking out the three market leaders, today I'm focusing on what I'm calling "the tonic ranges". So called because they each have a wide range of flavoured mixers to their name, today I'm still only trying their original tonic's (there will be later blogs about the whole range). So, what are we trying?
Double Dutch Indian Tonic – Double Dutch come from (wait for it) the Netherlands, a place that some hail as the birthplace of gin. They got fed up when the world of spirits exploded, yet mixers and tonics dragged their feet. So they stepped up to fill the void. Aided by Richard Branson who awarded them a Foodpreneur award for their innovative range, they wanted to create mixers that complimented, enlivened and enhanced great spirits. Their range includes flavours such as Pomegranate & Basil, Cucumber & Watermelon and Cranberry Tonic. You can find Double Dutch on Facebook, Twitter and Instagram.
I met Merchant's Heart at Junipalooza during their masterclass on the Sunday – having never heard of them before! Now, Merchant's Heart make 'spirit enhancers', not mixers, because they say that every flavour in their collection is designed to 'perfectly complement a particular spirit, and elevate drinking and drink-making to a whole new level of enjoyment'. They spoke a lot in their masterclass about the different stages of drinking it and how it works with a spirit…which was sort of lost on me… but let's give their Classic Tonic a go. Also in their range are flavoured tonics pink peppercorn, lemon, hibiscus and ginger ale. You can find Merchant's Heart on Facebook, Twitter and Instagram.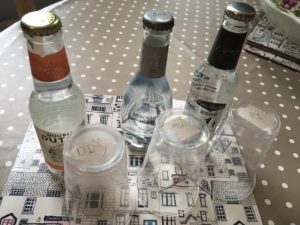 The final drink today is Peter Spanton No. 1. Made in London, they are designed to be enjoyed on their own, as well as with a spirit. The No 1 Tonic was designed to 'hold a great gin or vodka, a frame to exhibit a masterpiece, not simply blanket it'. I have to admit, the No. 9 Caramom tonic is DELICIOUS having received it with a Craft Gin Club delivery before, and their range of flavours includes lemongrass (no. 5), chocolate (no. 4) and salted paloma (no. 13). You can find Peter Spanton on Facebook, Twitter and Instagram.
Following on from the last tasting, we are using 25ml of 6 O Clock gin with 50ml of tonic… (Joining me today is my lovely assistant Catriona)
Tonic 1 is lovely, I think it's quite warm and slightly spiced whereas Catriona thinks it's "fresh – not citrus fresh. Maybe it's not fresh I take that back." It doesn't taste like tonic – last time the dryness from the tonic was the biggest flavour whereas here it is taking a back seat and not stealing the limelight. (BTW – we came back to this after we had tried all three and instantly all of the fizz had gone. We poured all three at the same time so it's not like it's been sat out any longer).
Tonic 2 tastes slightly sweeter to me, an artificial sweetness that makes it taste like a diet tonic. "It tastes like a sweetener tablet (Canderel specifically but other brands available), you get a slightly bitter taste before an overwhelmingly sweet taste (I hasten to add I held it in my mouth which I wouldn't do if I were actually drinking it)." This tastes a bit like a vodka and lemonade from our pasts, you know when it's a random brand vodka and a random brand mixer? Yeh.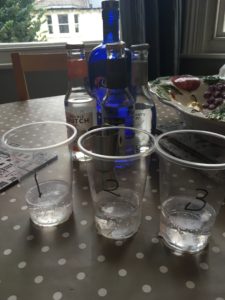 Tonic number 3 – this to me is very dry. I had to take another mouthful straight away because it feels like my tongue has been stripped dry. Catriona thinks it's a bit lemony which I get, there seems to be a hint of citrus. Sadly the consensus is that it tastes slightly artificial, and perhaps too similar to a supermarket own brand.
So which was which? Number 1 was Double Dutch, which whilst slightly flat in the glass was still fizzy in the bottle and actually rather drinkable on its own. It's flavoured but in a subtle way – or in Cat's words " its like I've shoved loads of jelly beans in my mouth in a really diluted way – which is lovely". Number two is Peter Spanton which disappointed me slightly as I REALLY LOVE the cardamom one. It turns out it is zero calories, so it is a diet tonic (just not labelled as such). It doesn't taste much like tonic, and I don't think I'll be rushing to drink that on its own. Number three then, is Merchant's Heart. Sadly, we're not sold on this. And for £1.95 for a 200ml bottle, we're not convinced it's worth the price tag. So we did an extra experiment – this does not indeed taste like Co Op own tonic (we apologise) as Co Op's is much sweeter and more lemony, whereas Merchant's Heart is just very dry.
So, what did we learn? Our taste buds aren't great for a start. Personally, my favourite is Double Dutch – something that Catriona agrees with. It's a good level of sweetness balanced with dryness. What do you think – let me know your thoughts on Twitter and Instagram.