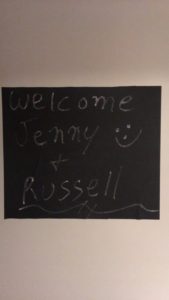 I've been dreaming of visiting New York city since I was a child. This year I told myself that this was the year to do it, regardless of who would come with me. But luckily the boy is easily convinced so off we jetted with Norwegian airways for five days of adventures. NOTE: It is totally worth paying more for your flight with Norwegian as it then includes a checked bag and two meals (well, two servings. The hot food is ok, the cold is not).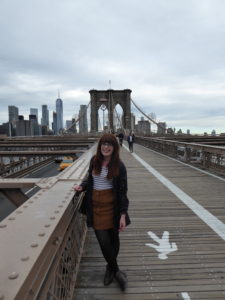 We arrived at JFK four hours before we could check into our Airbnb in Brooklyn so we jumped in an Uber for the first time ever and got dropped at Pedro's on our host's recommendation where we collapse with our cases and consume some Mexican food (I essentially had a chorizo sausage wrapped in a tortilla wrap) and beer. FINALLY it's time to go to our home and we meet Xavier. He is super friendly and gives us a really thorough intro to the apartment (having stayed in a few places on Airbnb, this is definitely the nicest welcome I've ever had) and local area. Then boom. We collapse asleep. After strolling through Brooklyn, we find dinner at Henry Street Ale House. At that point my body was unhappy so I went for a Mediterranean salad with grilled chicken which was lovely and fresh and just what I needed. Russ went for a burger (cooked medium rare as requested) covered in cheese and bacon with fries. Our bodies craved very different things.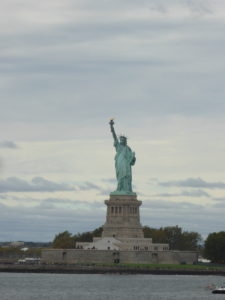 We woke up refreshed on Monday morning and started our day by walking across the Brooklyn Bridge. We had prepared for it to be crazy busy as per our guidebook, but it turns out that at 9.30am on a cloudy Monday morning it's pretty clear. The bridge ends at City Hall which is just a walk down Broadway via Wall Street to the Staten Island ferry terminal. This is free and takes you past the Statue of Liberty plus gives you some pretty good views of southern Manhattan. We then did what everyone else did, and ran off the ferry and straight back onto the return ferry. In the cold wind without jackets we walked up the Hudson and had lunch at Hudson Eats.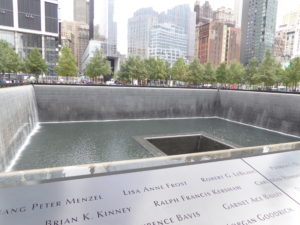 You know what a long morning needs? A lemongrass marinated piece of brisket on a brown rice salad. Or another burger if you're the boy. Hudson Eats links to the One World Observatory and the 9/11 memorial via an underground tunnel leading into a Westfield shopping centre. Two large pools with hundreds of small jets of water cascade down to make one waterfall into an abyss.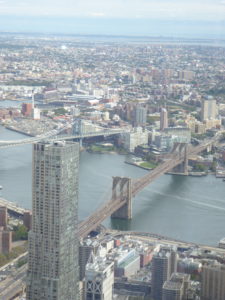 It's very calming, but we managed to stand at a point in front of an engraved name with the same surname as the boy which was a bit creepy and really made it hit home. To counter this, we headed up to the observatory – a towering monument built next to the former site, a symbol of rebirth and resilience. The views from the 100th floor are INSANE. I thought the views from the Petronas Towers were good. We went up on a clear day and you can see for MILES. Looking straight down is a bit scary though. Monday night dinner came from Grimaldi's pizza, a famous pizzeria in Brooklyn – huge pizzas, reasonable prices and slightly grumpy service but a yummy pizza.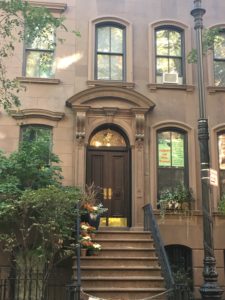 The next morning we jump on the subway up to West 14th Street and go on an adventure to Carrie Bradshaw's house and the external apartment from Friends which happen to be around the corner from each other. By now the sun has come out and we walk up the river to the Whitney…which is closed on a Tuesday.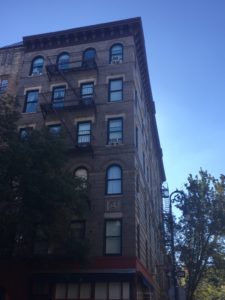 So up we go to the High Line – a disused railway track that has been turned into an urban garden. From here it's a short(ish) stroll to Chelsea Market and lunch at Chelsea Thai Wholesale. Because our little tour ended earlier than expected, we got on the subway to the Museum of Natural History where everything is shut which pissed me off because I wanted to see the Blue Whale so we walked through the park and saw the Bathesda fountain and went to the zoo instead. Tuesday night we decided was date night and we had dinner at Chez Moi on Atlantic Avenue in Brooklyn. Did it cost $82 (plus 20% tip), yes. But did I love my steak and pisco sour. Hell yes.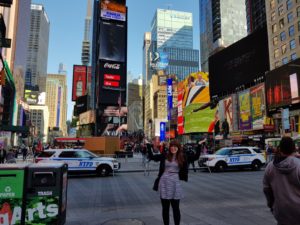 As we reached the middle of our holiday, we decided it was time to march around midtown – from the Flatiron building and a giant Lego shop, up Broadway to the Empire State Building and Madison Square Gardens. From here we ventured to Times Square (nowhere near as busy as I anticipated) and forayed into Midtown Comics.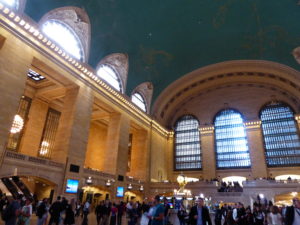 For lunch we took a seat at a cafe in Bryant Park and did some people watching and relaxing in the sun with beer before walking down the road to Grand Central Station and the Chrysler Building. At this point we lost energy and enthusiasm. Perhaps we did too much for a day but on we marched to the Rockefeller Centre – did you know that the skating rink is there already, although sadly the Christmas tree is not 🙁 After a little pause and a mood change, we popped round the corner to see Radio City and the incredible St. Patrick's Cathedral. It might not be the top thing on your tourist list but I would make sure it is on there. After our long day we were going to order take away, but our basement room doesn't really have an address and our phones didn't work so we walked over Manhattan Bridge to China town for dinner. Manhattan Bridge – less pretty and much noisier than the Brooklyn Bridge but you get some pretty good views.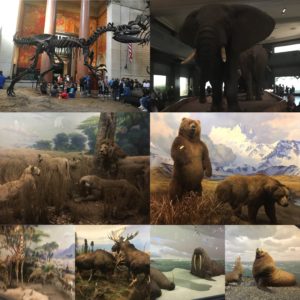 Our final morning loomed and we had a lazy start as we were tireddddd then up we got and went back to the Natural History Museum because dammit I will see the blue whale! Note. The Natural History Museum isn't free. They suggest a donation of $23 each but as long as you pay minimum $1 then you can get in. The dioramas are pretty awesome. They set the animals out with painted backgrounds and plastic foliage so you can see them in their 'natural' setting. There's halls of mammals and most importantly the blue whale. Mate. It's huge.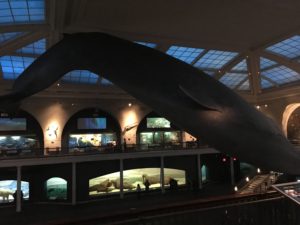 Plus there are some pretty hilarious elephant seals and walruses. Around the corner and down the street from the museum is a traditional kosher deli and bagel shop where we had some lunch – I had a pizza bagel because New York. Taking advantage of our last day in the 20 degree sunshine, we strolled through the park to Belvedere castle – something I've been slightly obsessed with since a woman died there in CSI:NY. From here we spent the afternoon meandering through the park seeing the great lawn and the Jackie Kennedy Onassis reservoir. Then we went to the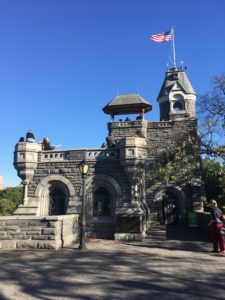 Guggenheim…which is closed on a Thursday. We did so well at museums this holiday. Down 5th Avenue is The Met, which was open but we arrived close to closing time so instead we decided to go back and sit in the sun. Sadly this couldn't last forever as we needed to head to Hell's Kitchen so off we walked, accidentally via Trump Hotel…and walked into a protest. Heyyy hooo Donald Trump has got to go! Whilst we didn't bump into Daredevil in Hell's Kitchen, we did have some nice simple food in a normal portion size at Da Tommasso (near 8th Ave/w53rd street) with some really lovely wine. Then, because we are in New York, I made the boy see a musical. Admittedly Avenue Q was the only one I could convince the boy he wanted to see, but still. We saw a show. Sort of on Broadway. Having seen it twice before, it still makes me laugh a lot and was a really fun ending to our lovely day.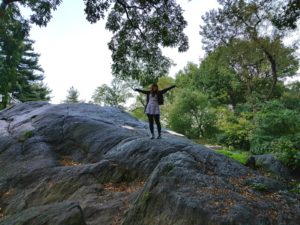 With that, our holiday drew to a close. Flying back the next morning wasn't as draining, but I did also get to watch Baby Driver (good) and the Tom Cruise Mummy remake (as awful as expected).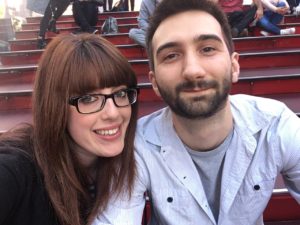 I would like to thank Mel and Xavier for hosting us, if you're looking for a place to stay then we can highly recommend their place which you can see here. It's super close to two subway stations and close to both the Brooklyn and Manhattan bridges making it super easy to get around, and is cheaper than staying on Manhattan island!