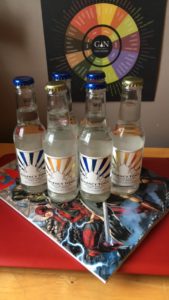 In case you didn't know this about me, I live in Brighton. Well, Hove actually. Regency Tonic come from three roads away from me (and after chatting to co-founder Rich, it turns out he used to live just three doors away from me, small world). Regency's aim was to create a tonic low in sugar so that you can #tasteyourgin – their original gold tonic contains just 1.3g per 100ml which is less than the Fever Tree Naturally Light tonic. Rich admits himself that this is quite divisive for consumers – the dryness of the tonic doesn't compliment every single gin and needs to be paired with a slightly sweeter one to balance it out. So, to widen their reach they have just launched their new blue tonic. This has a higher sugar content to make it taste more like a traditional tonic and hopefully to appeal to a wider market.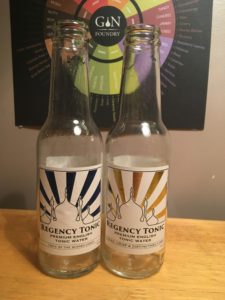 I tried the original gold tonic as part of my tonic taste test – which you can read here FYI. After seeing this post, Rich hand delivered (what with us being neighbours) some new bottles of the newly launched blue tonic (thanks Rich!). I've had a sort through my collection and found two gins to use as bases. I've plumped for Shortcross Wild Clover gin as my sweeter/more floral gin (blog here) and Juniper Green Organic Gin as my dry gin (blog here). To do this fairly, I will be using 50ml of each gin with 100ml of each tonic – although I won't be blind testing them this time. As I have a degree in Sociology, I know some stuff about research bias so I've made sure to use a mix of the two types of cup I have to make it fair (seriously, gin blogging is super glam).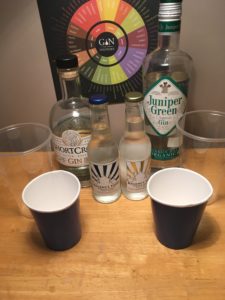 Starting with the original gold top mixed with Juniper Green this is very dry. The dryness of the tonic brings out an almost acidic taste in the gin, it's really quite unpleasant. It reminds me of being young and going to clubs and ordering cheap, unpronounceable spirits with cheap off brand mixers. With the Shortcross gin, it adds a depth of flavour to what is quite a sweet gin. It balances the floral tastes with a heavy dryness – one that is perhaps still too dry. Although certainly better here than with the Juniper Green.
So, how does the blue top fare? I'm trying with first with the Shortcross gin which smells like a good gin and tonic, a hint of the floral notes still come through. The taste is not quite as balanced as expected. The sugar from the tonic accentuates the sweeter notes of the gin, making it a bit too cloying for my taste. The Juniper Green smells cleaner with no one note standing out. The blue tonic works much better with this gin – which was kind of the point of making the blue top sweeter, to work better with a dry gin. It balances nicely and allows the flavour of the gin to shine through.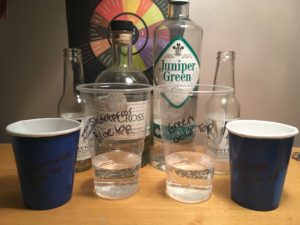 I've struggled with the gold tonic in the past, as it's Brighton based I've wanted to love it but found it hit and miss with various gins. The blue top is a welcome addition as it makes it a bit easier to drink, and whilst I have only tried it with two gins here I imagine it suits a wider range of gins than the gold top. So, overall, what's the winner? Of these four, it's the Juniper Green with blue tonic. I guess this tastes the most 'traditional' but is well balanced and not too sweet or too dry. I like a dry drink but sometimes that leads you to want more water rather than more gin – and that is NOT something I advocate (joking, obviously, drink responsibly and drink water between your boozy beverages).
You can buy Regency Tonic on their website (at time of writing only the gold tonic is available as they are currently pushing the blue version out to retailers) for £24 for a case of 24. You can also find Regency on Facebook, Twitter and Instagram.
What do you think – have you tried Regency Tonic? Let me know your thoughts over on Twitter and Instagram.