Note: This post contains affiliate links marked as [Ad], if you click on this and buy a bottle of gin then I will receive a small commission.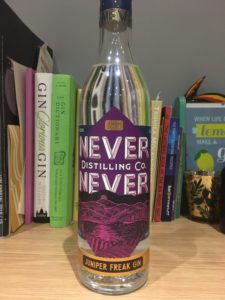 Back in June, I visited Junipalooza and finally got a chance to meet the Never Never Distilling Co. Based in Adelaide, Australia, they say they embrace the Australian spirit of adventure (is that a thing?) and produce some of the most juniper forward gins on the market. This inspires the name Never Never, which TBH just makes me think about Neverland, which is kinda of the point – they celebrate those that dare to be different and seek more from life. Started by friends George (the science whizz), Sean (sales and marketing expert), and Tim (head distiller), the three came together and are currently based at the home of Big Shed Brewing, but long for their own space in the outback. They currently make three key gins, their 'normal' gin is Triple Juniper (which funnily enough is juniper heavy), their Southern Strength (52% ABV) and then today's gin, the Juniper Freak which is an ode to the juniper berry. This gin sits at 58% which gives it a punch and helps to amp up the oily juniper – the description for this might be my favourite ever: "It's a seriously big gin, but hey, we're not here to fuck spiders". I don't know if that's an Aussie saying but I love it. The Juniper Freak won Australia's Best Navy gin at the 2019 World Gin Awards, so how does it taste?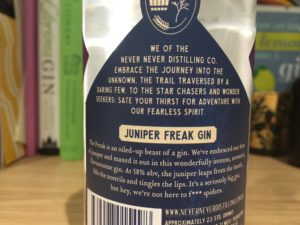 Opening up my bottle (and discovering the embossed wooden cork) and the juniper hits you, but for a gin called Juniper Freak, it's not as potent as you might expect. Having tipped it into a glass, I reserve the right to retract my former statement. It's deep and woody and resinous, and completely and utterly compelling. With a splash of water, sweeter, citrus notes come out and it louches ever so very slightly. On the tongue it tingles, but considering it is 58% I'd expect a lot more, and it's super smooth to drink. It feels thick in your mouth, it really coats everything with that flavour and leaves you salivating for more. This is very easy to drink neat, it has enough of a kick to it to not be bland, but it's so smooth and the juniper reminds you how great gin is. Perhaps that last bit is just me.
As you know, I normally pair my gin with Indian tonic for the blog, but due to the juniper content I decided to go for some Fever Tree aromatic tonic today as it pairs well with juniper forward gins. Starting with a 50/50 mix and it's bright and punchy, the cardamom and ginger from the tonic pairing brilliantly with the heavy juniper. As someone that often quaffs their gin a tad too quickly, the amount of flavour in this means you don't feel the need to gulp it down (FYI, don't do it, drink responsibly). The finish on the tongue is long and slow, allowing you to savour the taste for a long time.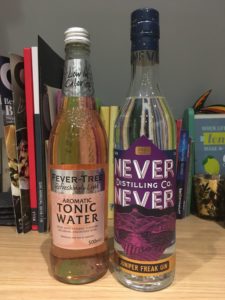 You can get a 50cl bottle of Juniper Freak from Spirits Kiosk [Ad] for £36.45 (at time of writing). Which is quite pricey for that size bottle (that's the equivalent of £60 a bottle at 70cl), and a big part of the brand is about affordability. However, direct from their website, a bottle works out at just under £30 (at time of writing) so it's more affordable if you don't have to transport it half way around the world. You can find them on Facebook, Twitter and Instagram.
Have you tried any of Never Never's gins? Let me know your thoughts on Twitter and Instagram.