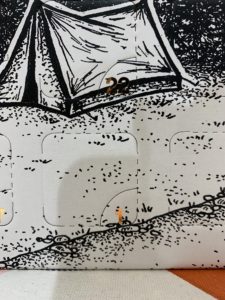 Happy first day of Ginvent! Here we are for my fourth year and kicking off the festivities with Conniption Navy Strength gin. Hailing from the Durham Distillery, this gin isn't from the Durham of Cathedral fame, instead they are based in Durham, North Carolina. We'll take a short detour here to talk about American gins as they have some different rules over the sea. Here in the UK, to be gin the flavour must be "predominantly" juniper with a minimum ABV of 37.5%. In the USA, gins have to be "characteristically" juniper and a minimum of 40% ABV. This means their gins have a different feel as the juniper is less obvious (at least in the American gins I've tried previously) which allows them to play with their flavour profile a bit more. Now we have that out the way, the distillery uses a two step process to create their gins. First they perform a traditional distillation in a copper pot, then they move on to a more modern vacuum distillation for their more delicate botanicals. Their original gin uses cucumber and honeysuckle to create a fresh and floral finish, and usually when a brand creates a navy strength gin they tend to just amp up their recipe. Here, they share just three botanicals but add sweet citrus and fig and raises the ABV to 57%. They have won a number of awards, most recently winning the Best American Navy Strength gin at the 2019 World Gin Awards and before that a double gold (pretty impressive) at the 2017 San Francisco World Spirits Competition. So, how does it taste?
Cracking open our first dram is always exciting, and for something that is 57% ABV it certainly doesn't smell that strong. You get juniper, and a rich creaminess that I associate with vanilla or tonka bean. In the glass, you can already sense the thickness of it, although you can't pick up any unique botanicals. Not to say it is plain, perhaps well balanced. Sipping it neat and you can certainly sense the ABV now, it's like a sucker punch to the tongue. It's bright, it's bold, it's peppery, it's oddly mentholic – I feel like this will get rid of any cold. There is something a tad herbal behind it, and it's not as creamy in texture as I anticipated.
Mixed with tonic and that caraway seed is coming to the front to give you all kinds of mentholic, nose clearing good times. The pepper comes to the front, filling your mouth and leaving a long, lingering finish. The creamy texture I initially sensed now comes through, it's so soft and silky. This is a real joy to drink, it has so much flavour (I admit I am drinking this as close to 50/50 as I can get, I imagine with a splash more tonic it's gentler to drink) but nothing is gimmicky or overplayed. The rosemary helps to balance the flavours, not obvious at first but sensed at the end of the finish just as you breathe out and it fills your nose.
You can get a 75cl bottle of Conniption Navy Strength gin from Gin Kiosk for £41.25 (at time of writing) which is pretty good value for a navy strength gin and a bottle that size. Personally, if you want a bold gin (which, if you're buying navy strength gins, I imagine you are) this is a pretty good shout. You can find Durham Distillery on Facebook, Twitter and Instagram.
Have you tried Conniption gin? Let me know your thoughts on Twitter and Instagram.