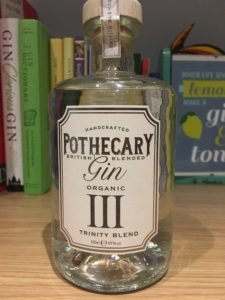 I'm a fan of Pothecary gin, so when they announced their new Trinity Blend, I was excited to give it a try (thank you to Martin for kindly sending me a bottle). I've written about their British blended gin here, and tried their Thai blend (which is delicious) at Junipalooza. So, what makes the Trinity blend different? This gin was created as a rebellion; a rebellion against all that is wrong with gin, the pink gins, the glittery gins, the liqueurs masquerading as gins, the list goes on. Instead, they use just three botanicals: juniper, coriander, and bergamot. I am a BIG fan of bergamot, if you are too I'd recommend trying Italicus which is delicious with prosecco. I digress. So, a brand I like and three flavours I love – plus a hike up to 49% ABV AND it's still organic. So, how does it taste?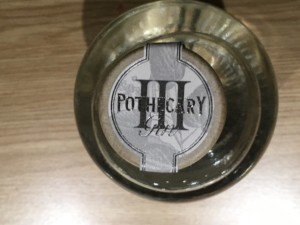 Opening the bottle and it smells like gin. Actual gin. Juniper. Fresh rain (hi coriander). Zingy. In the glass it is pine all the way, and a whack of ethanol. Adding a splash of water rids your nose of the ethanol and allows the bergamot to blend perfectly with the juniper on the nose. On the tongue it has a nice heat to it, I imagine that's from the 49% gin I'm sipping neat. It louches ever so slightly, turning a tad milky. The citrus from the bergamot adds a lightness to it, balancing the heavy juniper.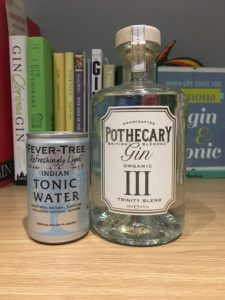 Mixed with some Fever Tree light tonic, and the louching is more obvious and the flavour balance changes. It is still quite peppery but it takes on a herbal quality. It has a long, slow finish as the flavour verges on perfumed – like their British blended version which contains lavender it isn't overpowering or soapy, just enough to lift it at the end.
I can't really find where this is available yet – I'll keep asking and update when I can – but you can get your hands on the rest of the range via Gin Kiosk here ranging from £39-£55 (at time of writing). You can find Pothecary on Facebook, Twitter and Instagram.
Have you tried Trinity blend? Or any of the Pothecary range? Let me know your thoughts on Twitter and Instagram.