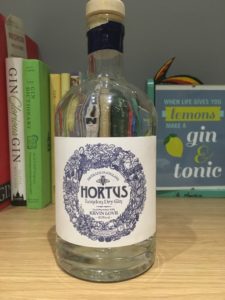 If you have a TV, you'll have seen Lidl's adverts doing the whole "You can buy X from Tesco for £Y, or you can come to Lidl and buy A, B, C, D and E for less than £Y". One of those adverts features their own brand gin, Hortus. Developed with Kevin Love, a Michelin-starred chef (and prodige of Heston Blumenthal), Hortus ranked higher than big brands Gordon's and Thomas Dakin in a blind taste test run by Good Housekeeping Institute (coming 7th overall) and winning a silver medal at the ISC 2016. They use botanicals such as lavender, lemon verbena, rosemary and cubeb in their London Dry gin, as well as producing some limited edition seasonal variations. For most people, craft gin comes at a price too high to drink all the time, so if this really tastes as good as some craft gins but for a fraction of the cost, this could be why it is proving so popular with gin drinkers.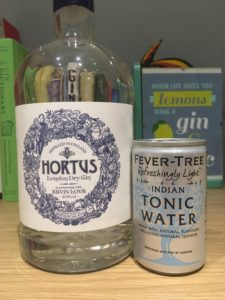 Opening my bottle and it certainly smells of juniper with a thick citrus scent – more like a concentrated oil rather than fresh lemons. In the glass it becomes cleaner and, for want of a better word, plainer. The juniper and citrus calms down at first, after a bit of time they come back in a richer way than before. Adding a splash of water and it is very easy on the tongue. It is light and perfumed, with a thickness on the tongue but a touch of herbs at the back. Usually things with lavender in taste quite soapy, and herbal gins aren't my bag, but this is actually well balanced. I rather like this.
Mixed with a splash of Fever Tree light and the flavour changes and deepens. The peppered notes are more pronounced, particularly at the back of the throat. The perfume from the lavender is still there, lingering on the tip of the tongue but it's not as strong as before (strong might be OTT, it wasn't strong before but it's definitely not obvious). It maintains a good balance, but actually it has more flavour than I anticipated. From my uni days, I remember supermarket own spirits having a distinct taste of nail varnish remover, so this is a pleasant surprise. Top tip – a slice of dehydrated lemon works a treat as a garnish.
You can buy a bottle of Hortus from your local Lidl for £15.99 a bottle (at time of writing). Frankly. Bargain. More flavour to it than a mainstream brand around the same price point, just at the price that you have to find your closest Lidl (if you live in the country like I do then you might have to go for a drive). You can find Lidl on Facebook, Twitter and Instagram.
Have you tried Hortus gin? Let me know your thoughts on Twitter and Instagram.