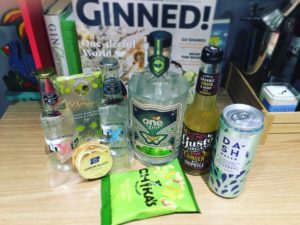 It's my favourite time of the month again – it's a Craft Gin Club delivery! This month we received a special edition of One Gin which features the sage we know and love from their original gin, but with the addition of russet apples, along with a host of goodies including Lixir tonics, Gusto ginger and chipotle, cucumber Dash water, lemon and juniper Divine chocolate, and a bag of Chika's chilli and lime nuts. If we were playing Only Connect and these were the clues, the connecting factor would be "ethical and organic brands" (ok, Victoria Coren Mitchell would phrase it better). One gin works with charity partner The One Foundation who pledged to raise £20 million for clean water projects by 2020 – to date they have already raised a staggering £19.3 million. A bottle of One gin gives 10% of its profits to the charity which currently works in Kenya, Malawi, Ghana and Rwanda and features botanicals such as juniper (obviously), cassia bark, nutmeg, lemon peel, and sweet and bitter orange peels alongside the fresh sage and russet apples that give this gin its name. Bottled at 43%, it has a kick to it and they say it tastes fresh and crisp.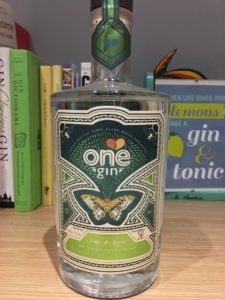 Opening the bottle and it smells delicious. Certainly herbal with a freshness behind it. In the glass and there is almost a chilli like quality to it, mixed with the creaminess of vanilla. Adding a touch of water allows the apple to come to life, but not in a sickly sweet way. On the tongue the crispness of the apple shines through but with a savoury edge from the sage, but rooted in the piney juniper. There is a hint of apple sours behind it, but luckily this isn't too obvious – sadly my university days made this a smell I can never forget.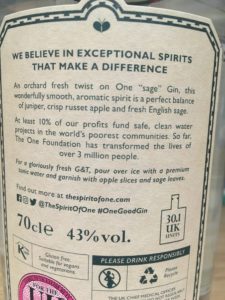 Craft Gin Club suggest mixing this with Lixir's rhubarb and ginger tonic, but for consistency for the blog I'm sticking with Fever Tree light and once more the apple is forward on the nose. On the tongue it feels synthetically apple-y, it's a bit harsh and almost too flavoured. Perhaps this is why they suggest using a flavoured tonic to help counteract the tartness. Craft Gin Club helpfully provided dried lemon slices as a garnish (which smell phenomenal when you open the package) which brings the flavours back into balance. The real acidity from the lemon neutralises the sweetness from the apple and helps to bring the dryness of the gin forward – you get pine and herbs at the beginning before the apple develops at the back of the throat.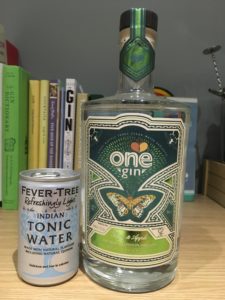 You can't yet get your hands on a bottle of this gin, but you can get a bottle of their regular 43% gin from Gin Kiosk for £39.90 a bottle. You can find One Gin on Facebook, Twitter and Instagram.
Have you tried One Gin? Let me know your thoughts on Twitter and Instagram.