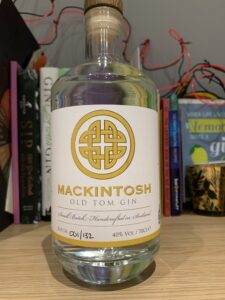 Anyone that follows me on social media might have seen that I basically stalk the Mackintosh gin family. I'm worming my way in to be an adopted daughter even though my hair isn't nearly long enough or bright enough. They kindly sent me a bottle of their original gin back in May 2019, then I loved them so much I bought a bottle of their newly-launched navy strength gin in April. Due to lockdown my lack of commuting has given my bank balance a boost and I've been bored and FOMO kicked in so I just got myself a bottle of their Old Tom gin. Launched at the same time as the navy strength, I was unsure of the Old Tom – which is a style we all know I love – because it's pineapple and grapefruit. I worry about pineapple in gin. It shouldn't be on pizza and I don't think it should be in my gin. Obviously Old Tom style gins are usually sweeter, and they add candy syrup between distillation and bottling along with the fresh pineapple. They say this is still juniper led with locally foraged elderflower, like their other gins, with a strong citrus burst.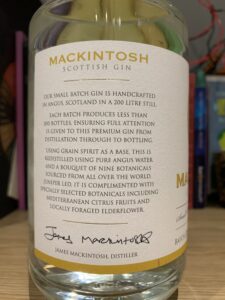 Opening my bottle and it is certainly juniper forward, it's dry and not nearly as sweet smelling as I anticipated. In the glass you start being able to pick up that tart grapefruit peel, which is amplified with a splash of water. On the tongue it's not the sweetest Old Tom gin I've ever tried, but it's a little like putting a cube of brown sugar on your tongue – caramelised, charred fruit that gives it an almost smoked quality. The sugar is well balanced by the earthy juniper and bitter grapefruit.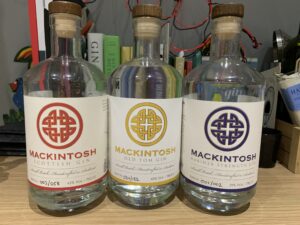 Mixed into a Tom Collins (you know the drill: gin, lemon juice and sugar syrup, stirred with ice and topped with soda) and it is a delight. Refreshing, with just the right level of sweetness and at the back of the throat a burst of ripe tropical fruits. It turns out, my fears about pineapple in my gin were unfounded. This is a modern take on an Old Tom gin, and during lockdown team Mackintosh have been giving us all great cocktail ideas so excited to try this out in a few different drinks.
You can get your hands on a 70cl bottle of the 40% ABV Old Tom gin from the Mackintosh website for £37 (at time of writing). You can find Mackintosh gin on Facebook, Twitter and Instagram.
Which of the three Mackintosh gins is your favourite? Let me know your thoughts on Twitter and Instagram.