Note: Jim at Mackintosh Gin kindly sent me bottle to try, as always I'll let you know what I think.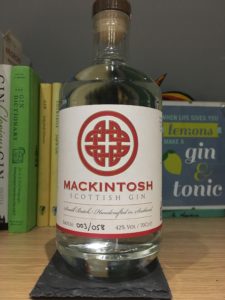 The team at Mackintosh Gin come from Angus, the area just north of Dundee on the east coast of Scotland – affectionately known as "the birthplace of Scotland". James and Deborah met and fell in love at a young age, after travelling aroujnd they settled in Angus and like all gin lovers, started attending gin festivals and building their gin collection. Around bottle 50, they joked that they should make their own gin – a joke that became reality two years later. They use nine botanicals in their gin – juniper, angelica, coriander and elderflower, which is picked a few minutes from their door. Each morning when they start a distillation, they go and buy fresh grapefruits from their local shop. They import their base spirit from the West Midlands, before the gin is distilled and bottled in Arbroath. Once off the still, it is combined with pure local water from Glen Isla.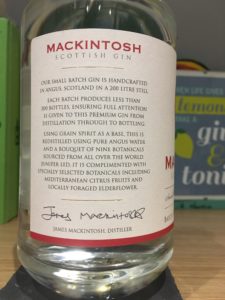 Opening my bottle and the juniper is front and centre along with something slightly spiced. In the glass, you get a slight hint of elderflower, but the juniper remains as the key player. Adding a splash of water and it tastes like gin. Proper gin. Juniper. Cardamom. Citrus. All bonded together with a light, summery touch of elderflower. There is a sprinkling of pepper on the tip of the tongue, at the back of the mouth is a well balanced splash of sharp and sweet.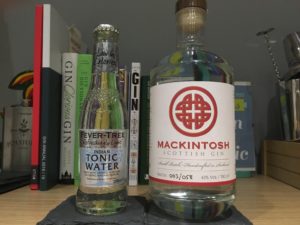 With some Fever Tree light, at first there is some bitterness from the tonic that overpowers the rest of the botanicals, Once you're over that, this is a delight. The fresh grapefruit brings a brightness to it that stops the elderflower being too heady and perfumed. The juniper is still obvious and doesn't get lost amongst the remaining flavours.
You can get a 70cl bottle of the 42% gin from their website for £39.50 (at time of writing). I think this would be a fine addition to any drinks cabinet, I see why so many people gush about this gin. You can find them on Facebook, Twitter and Instagram.
Have you tried Mackintosh gin? Let me know your thoughts on Twitter and Instagram. Don't forget that 3 August is International Scottish Gin Day so make sure you check out some of the great Scottish gins on offer!