Note: The team at Henstone Distillery kindly sent me a sample to try, but as always I will let you know that I think.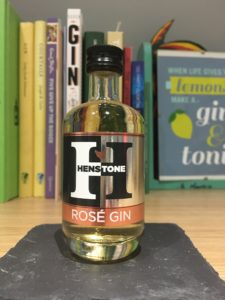 You might have previously seen my ramblings about Henstone Distillery's classic London dry gin and their navy strength gin, and today we are trying their rosé gin. Note the accent, it isn't rose or sugary sweet, this instead is their gin taken off the still at 65% and put into American oak casks before being bottled. The ageing process imbues a light golden colour to the gin, as well as a "subtle vanilla flavour". The ageing also brings this down to a more drinkable 44.9% ABV – the same as their London dry gin. The rosé gin recently was a runner up (and highest scorer for England) in the cask aged gin category for the Gin Guide awards – so, how does it taste?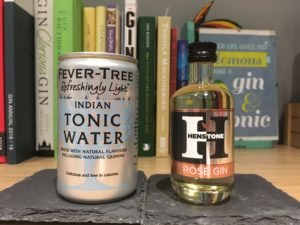 Opening my bottle and the oak is instantly recognisable, it almost smells like a port or a whisky it is so rich. in the glass, the alcohol really hits you – which is worrying as it is 44%, not a navy strength. The smell is very reminiscent of a whisky which has me a tad worried. Adding a touch of water to this tones it down and stops me from recoiling and you start to appreciate to a creamy, nuttiness coming out the glass. It's starting to smell like freshly cut wood (this is odd I appreciate, but the park I walk through to work and back recently cut down a lot of trees so I'm very aware of that sappy/woody smell). On the tongue it is quite gentle, a spice builds but it is more of a curried cardamom spice rather than a pepper. It has that maple syrup, brown sugar sweetness to it to stop the oakier notes being too much.
Mixed with some Fever Tree light and the caramel notes still shine through after an initial bitterness. I'm not a whisky drinker, but if I do then I mix it with some ginger beer and think that might be the better mixer choice here. You do still get a hint of piney juniper amongst the oak, along with something similar to nutmeg – woody and warm.
You can get a 70cl bottle of the rosé gin from Master of Malt for £37.50 (at time of writing). With tonic, I'm not convinced this is the one for me, I'd prefer to invest in their navy strength gin. You can find them on Facebook, Twitter and Instagram.
Have you tried Henstone gin? Let me know your thoughts on Twitter and Instagram.