Note: The team at the Ice & Fire Distillery sent me a sample to try, but as always I'll let you know what I think.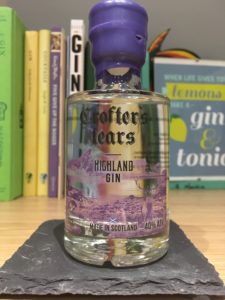 You might have read my review of Caithness Highland gin, and today's gin also comes from the Ice & Fire Distillery. Crofter's Tears uses purple heather as the signature botanical, alongside fresh orange and lime peel. The (full size) bottle reflects the contents with purple heather flowers snaking around the bottom of the bottle and on the neck stands tall a Highland stag. They suggest serving this with Mediterranean tonic and a twist of lime.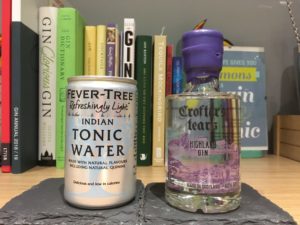 Opening my wax seal (I've said it before and I will say it again, a lovely touch for a miniature) and you get a heady, floral aroma coming at you. In the glass that remains, but has a earthiness rooting it so it doesn't become too light and soapy. With a splash of water added, the smell doesn't change much and on the tongue it starts very gentle and smooth, with a heat that appears slowly then gradually builds to intense, fresh ginger fire. You get a eucalyptus menthol hit the back of your nose after you breathe out. Based on how it smells, I wasn't expecting this – but I like it.
Mixing it with some Fever Tree light tonic (for continuity on the blog) and the pepperyness balances really well with the floral notes – it's light on the tip of the tongue before filling your mouth with heat which then dies away to leave a lemony sweetness at the back of the throat. This gin feels quite unique, I don't think I've tasted something like this for a while. It is bold with it's flavours without being overbearing. A small lime wedge tones down the pepper, and whilst I love a citrus gin and don't think this is bad, I think I personally enjoy it more without.
You can get a 70cl bottle of Crofter's Tears from their website for £38 (at time of writing). I think if you like your gin to be a different to the usual, this might be the one for you. You can find them on Facebook and Twitter.
Have you tried Crofter's Tears? Let me know your thoughts on Twitter and Instagram. Did you know that 3 August is International Scottish Gin Day? Why not check out an event near you to celebrate?