Note: The team at the Ice & Fire Distillery kindly sent me a sample to try, but as always I'll let you know what I think.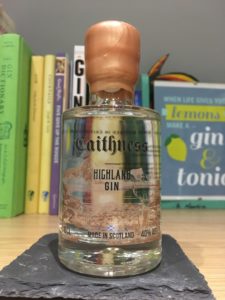 When you hear Ice and Fire, I don't blame you for thinking about that little show Game of Thrones. But in this case, I'm referring to the Ice & Fire Distillery, a family of Crofters from the Scottish Highlands. Making the most of the beautiful land, they use local water and use purple heather as their signature ingredient in the Crofters Tears gin (review to come). The heather carries through to their branding, their bottles are surrounded by heather and embossed with a highland stag. The Caithness Highland gin that we try today uses rhubarb – a staple in a traditional crofting garden – along with salmonberries. No, not the fish, they are similar to raspberries and so called as traditionally they were eaten with salmon or salmon roe. They combine these with their other botanicals (lots of which are home grown) and put them in their pot stills in the shed, before hand bottling and labelling them.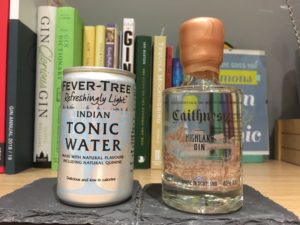 Opening up my mini bottle (which, btw, is still waxed which is a nice touch) and you get hit with a jammy, fruity smell mixed with a medicinal pine. Giving it some space in the glass and juniper is definitely at the party, along with something rich and creamy. Adding a splash of water to it allows something a bit more floral to come out – I believe rhubarb sits in the fruity/floral section of the botanical wheel so this is probably it. On the tongue, it has the thickness of an almond milk, but not as nutty. There is a noticeable sweetness that lifts it and ensures it isn't too heavy, and the end has a savoury note as if they've introduced some fresh herbs to the mix.
Mixed with some Fever Tree light (50ml of each) and this turns quite bitter. The floral notes all but disappear but leaves a eucalyptus freshness like a cough sweet – swallowing a mouthful and breathing out through your nose means I can breathe better than I have in days. Adding a touch more tonic brings the bitterness down and allows some citric notes to come through. I added some fresh lemon peel and this suddenly comes alive – the oils help to bind the flavours together in a more cohesive manner. I think for me this is one to drink neat rather than as a g&t, although with the addition of rhubarb as a botanical perhaps this would work better with a ginger ale.
You can get a 70cl bottle of the 40% gin for £38 from their website (at time of writing). I'm not sure this one is for me, but if you like a mentholic gin then this could be the one for you. You can find them on Facebook and Twitter.
Have you tried Caithness Highland gin? Let me know your thoughts on Twitter and Instagram. Did you know that 3 August is International Scottish Gin Day? Why not check out an event near you to celebrate?