Note: Chris at Henstone Distillery kindly sent me a sample to try but as always, I'll let you know my real thoughts.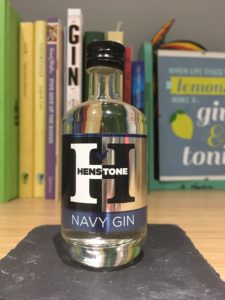 For the avid readers, you might remember that I tried Henstone gin back when I first moved house, well now that time has moved on we are trying their navy strength offering. When Henstone Distillery set up shop in 2015, their goal was to make whisky. When they were collecting their still, they tasted the manufacturer's gin and suddenly had a new goal (although, FYI, the whisky is currently in barrels and is available pre-order as it should be ready in January 2021). Their navy strength gin is bottled at 57.3% and uses juniper, coriander and citrus like their original gin along with angels wreath and cardamom plus some secret ingredients. So, how does this taste?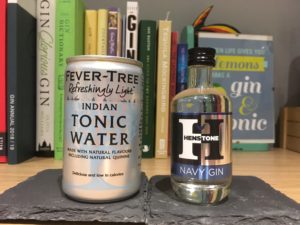 Opening my bottle and the juniper and citrus jump out at you straight away, along with something light and soft like elderflower. In the glass, the alcohol is very obvious, the 57.3% ABV coming through straight away. With a splash of water, it begins to louche in the glass and turn milky but it no longer attacks your sense of smell. On the tongue it isn't as assaulting as I feared, instead being surprisingly gentle. It warms your throat like a nice cuddle on a cold day. There's touches of peppercorn dancing across the tongue and a pleasant heat that lingers for a moment before fading away. I worry that drinking neat, navy strength gin is a new passion of mine that will only end badly.
Mixing it with some Fever Tree light and it still louches, turning cloudier than it did before. The peppercorn note amps up with tonic, but still doesn't overpower or overwhelm, and still fades quickly. On the tip of your tongue you do realise it is 57.3% every so often, but, if you're going to drink navy strength gin then I expect that every so often. You get a wash of curry-like warmth from the cardamom, not a spicy heat but that rich and comforting piquancy.
You can get your hands on a 70cl bottle from Master of Malt for £39.50 (at time of writing). I'm a big fan of this, I was a fan of their original gin and I am a fan of this. They've acknowledged that some work needs to be done on their branding to make the bottle more appealing to newcomers, but don't be put off by that and judge it by what is inside. You can follow Henstone on Facebook, Twitter and Instagram.
Have you tried Henstone gin? Let me know your thoughts on Twitter and Instagram.